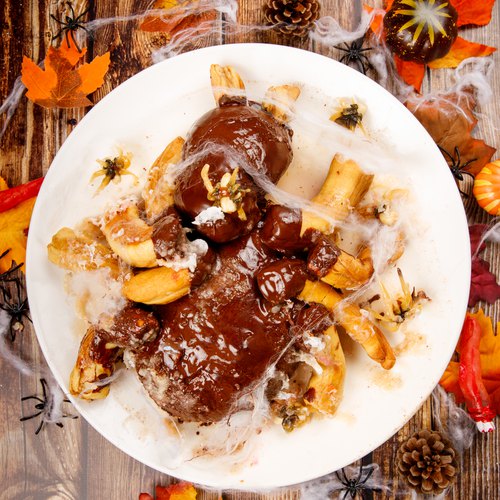 Spooky Chocolate Spider Halloween Donut
Scarily delicious 🎃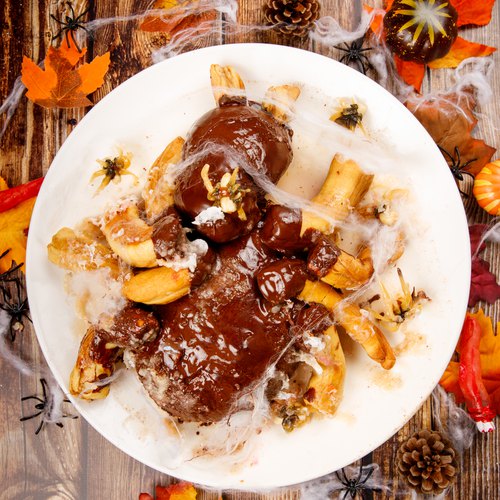 ---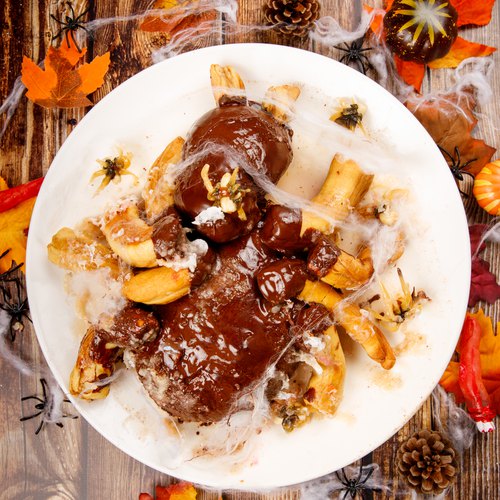 ---
Total time: 1 hour
Prep time: 1 hour
Ingredients for 6 people
1 large plain donut (no holes)
1 small plain donut (no holes)
1 sheet of pizza dough
1 cup of peanut butter
1 cup of dark chocolate
1 bag of werther's original hard caramels
8 peanuts
8 hazelnuts
cotton candy
1/4 cup of rum
---
Tools
Cooling grid
Baking tray
Candle
Matches
Small cups
---
Step 1/5
Purchase one large and one small donut with no holes or icing at a bakery. Alternatively, make two homemade donuts. Next, melt the peanut butter, pour it over your rectangular pizza dough, and spread out evenly. Roll up the dough, knead it slightly to stretch it out, and cut into 10 pieces. Place them on a baking sheet with a slight curve as seen in the video and bake in the oven for 12 minutes at 350 °F.
Step 2/5
Pour the melted chocolate over the two donuts and place on a serving plate, using the small donut as the head of the spider. Then dip the legs into the melted chocolate and attach them to the body of the spider.
Step 3/5
Place 4 small cups in each corner of a baking sheet, then set a cooling grid on top of the cups. Next, melt the hard caramels in a frying pan over medium-low heat until a caramel has formed. Pour part of the caramel over the grid, lift up the grid to reveal caramel strings, then set back down and pour cold water over the caramel to help cool.
Step 4/5
Line up hazelnuts and peanuts in a straight line on a plate, pour a line of caramel between them, and push the peanut and hazelnut together (see video). Take the caramel strings from the grid, carefully melt the ends with a candle flame, and glue them onto the peanut & hazelnut to make the legs of the spider. Repeat until you have many little spiders, then scatter them all around the giant spider.
Step 5/5
Cover the giant spider with cotton candy. Next heat the rum in a sauce pan, bring to a boil, and carefully light on fire. Pour over the cotton candy to reveal the spooky Halloween spider. Enjoy!