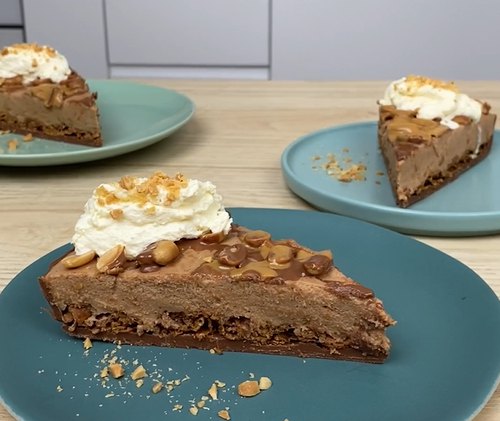 Giant Peanut Butter Cup
Giant Peanut Butter Cup! You'll go nuts for this sweet pie 😍🍫🥜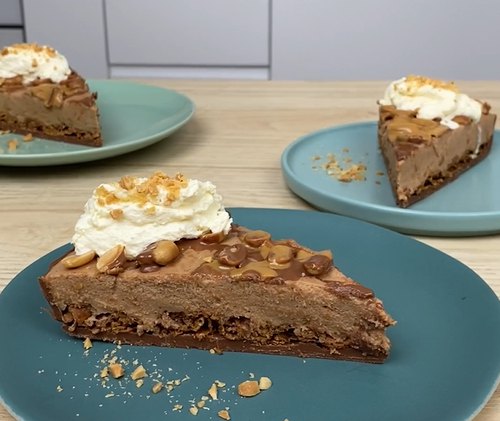 ---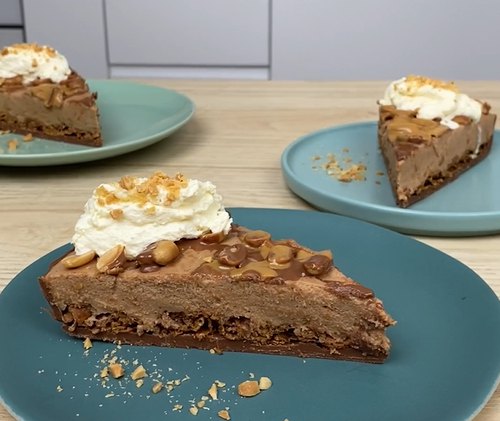 ---
Total time: 1 hour 20 minutes
Prep time: 30 minutes, Cook time: 10 minutes, Rest time: 40 minutes
Ingredients for 4 people
3 1/2 cups of milk chocolate
2 tbsp of peanut butter
2 cups of corn flakes
8 reese's pieces
1 cup of milk
1/2 cup of water
1 3/4 cups of heavy cream
Peanuts
1 1/2 tbsp of gelatin
---
Tools
parchment paper
Cling wrap
---
Step 1/4
Melt some of the chocolate and pour into a removal pie mold. Refrigerate for 20 minutes.
Step 2/4
Heat up the peanut butter in the microwave for 30 seconds. Place a sheet of cling wrap on top of your outlined piece of parchment paper. Using a spoon, pour the melted peanut butter on top in a marble pattern. Place the melted chocolate on top and using the backside of the spoon, spread to form a disk that is 1 inch from the outlined piece of parchment paper. Place on a baking sheet and place into the fridge.
Step 3/4
Toast the cereal on a tray in the oven at 350°F for 10 minutes. Place in a bowl with the remaining chocolate. Take your tart shell from the fridge and place this layer in the bottom. Refrigerate.
Step 4/4
Rehydrate the gelatin. Place your Reese's Pieces in a mixing bowl. Heat milk and pour on top. Stir in the gelatin. Whip the heavy cream and fold in the melted Reese's mixture. Pipe into the tarte and place the peanut spiral patter on top. Serve and enjoy!