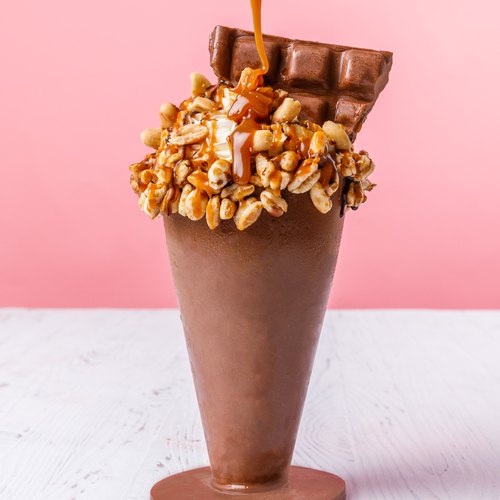 Super Snickers Sundae
Super Snickers Sundae! Your favorite candybar in a whole new way 🍨🍫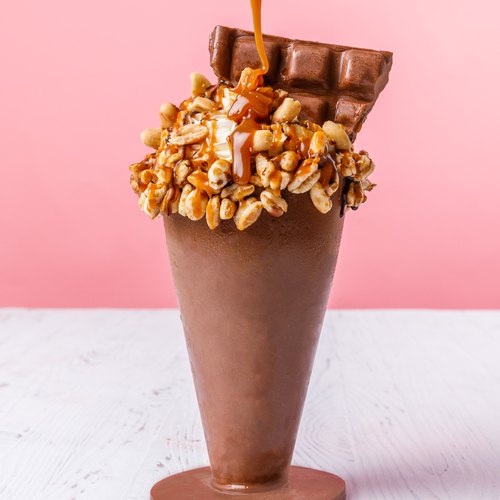 ---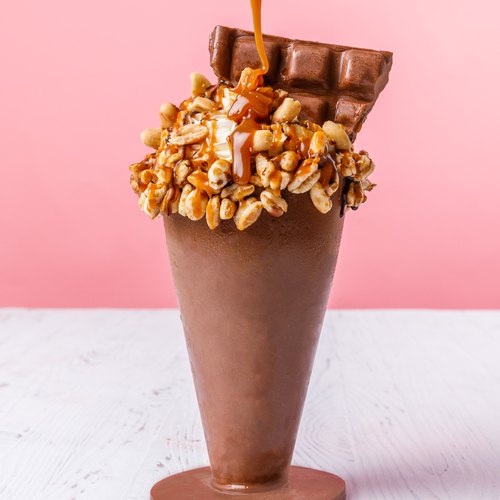 ---
Total time: 1 hour 30 minutes
Prep time: 1 hour 30 minutes
Ingredients for 2 people
1 cup of melted milk chocolate
1/4 cup of milk
1 cup of heavy cream
1/2 cup of sugar
1 tbsp of vanilla extract
6 cups of ice
1/2 cup of rock salt
1/4 cup of peanuts
2 cups of whipped cream
---
Tools
Loaf pan
Waffle iron
Hand mixer
Plastic bottle
---
Step 1/5
A few hours before or the night before, fill a loaf pan with water and freeze it until solid. Cut the plastic bottle in half. Keep the bottle cap screwed on and pour melted chocolate inside the top half of the bottle. Turn the bottle in a circular motion coating the interior of the bottle with the chocolate. Pour the excess chocolate onto a small plate and place the bottom half of the bottle into the chocolate on the plate, using it like a cookie cutter, but leave it in the chocolate. Place the small plate in the refrigerator to chill along with the top half of the bottle.
Step 2/5
Remove the bottle from the refrigerator. Unscrew the lid and push the chocolate out. Heat a saucepan and flip it upside down. Press the bottom of the chocolate glass (where the lid was) onto the hot pan and then "glue" it to the chocolate base that was cut out of the chocolate poured on the plate. Dip the rim of the chocolate glass and roll it in the roasted peanuts Place in refrigerator.
Step 3/5
Fill a large bowl with the ice and salt. In a smaller bowl with high sides, stir together the milk, cream, sugar and vanilla. Place the smaller bowl into the large bowl with ice. Using the hand mixer, mix the cream mixture until it thickens. The ice cream will be quite soft and must be frozen to firm it up enough to scoop. Place the smaller bowl into the freezer.
Step 4/5
Heat up the waffle maker. Place ice cube from the loaf pan onto the hot waffle iron. Remove the ice cube with the waffle imprint. Pour melted chocolate over the top of the ice cube covering the pattern. Pour over some of the caramel sauce and sprinkle with chopped peanuts. Cover with some more chocolate over the top to cover the caramel and peanuts. The chocolate should set almost immediately and be easily removed from the ice cube. Place in the refrigerator.
Step 5/5
Take the chocolate cup out of the refrigerator, fill with a scoop of ice cream. Using the top of the bottle, cut a star shape to pipe the whipped cream on top of the sundae. Drizzle with caramel sauce and sprinkle with peanuts. Break off a piece of the chocolate waffle and place on top. Serve and enjoy!