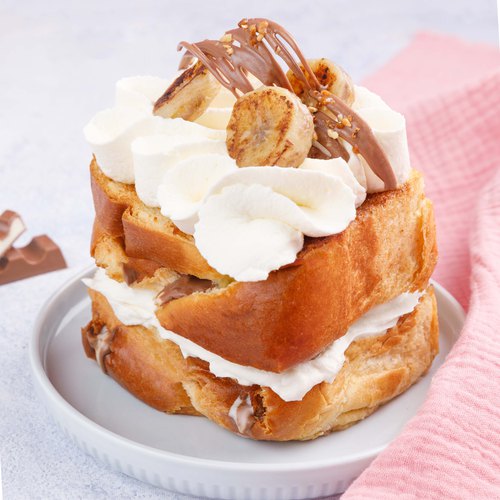 Chocolate & Banana French Toast
Chocolate & Banana French Toast! Your favorite childhood recipe revisited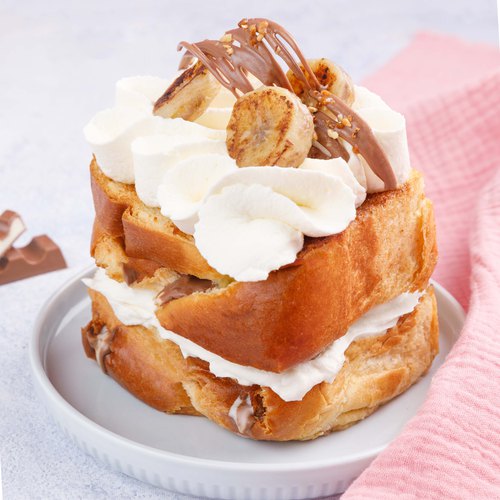 ---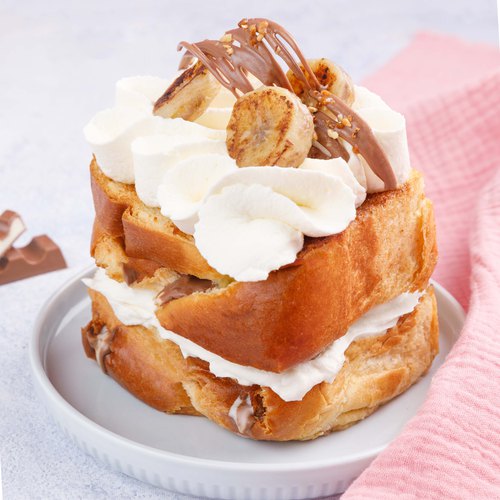 ---
Total time: 1 hour
Prep time: 30 minutes, Cook time: 15 minutes, Rest time: 15 minutes
Ingredients for 3 people
1 brioche
9 stuffed chocolate bars
1 egg
2.1 cups of milk
2.1 cups of heavy cream
5.3 oz of mascarpone
3 bananas
2 tsp of sugar
2 oz of milk chocolate
2 oz of white chocolate
Hazelnut powder
---
Tools
Plastic bottle
Piping bag
wire rack
---
Step 1/3
Cut your chocolate bars in half lengthwise, and insert them into the brioche starting from one-third of the way down, creating six rows of three chocolate bars. Cut the brioche into 6 equal parts so that each row of chocolate bars is in one part of the brioche, and then lay them flat on a plate. Mix the milk and egg together to make a French toast batter before pouring it into a plastic bottle. Poke holes in the cap, close the bottle, and pour the mixture over the brioche slices before cooking them in a hot, buttered pan.
Step 2/3
Place a wire rack over a plate before placing the bananas on it. Melt white and milk chocolate, then pour it into a piping bag, cut off the tip, and drizzle chocolate lines back and forth over the bananas to create three chocolate decorations. Sprinkle hazelnut powder over the chocolate before chilling everything for 15 minutes.
Step 3/3
Remove the bananas, carefully unmold the chocolate and set it aside. Peel and chop the bananas before cooking them in a hot pan with sugar. Whip together the mascarpone cream, heavy cream, and powdered sugar until fluffy. Place a slice of brioche on a plate, add a layer of whipped cream on top and spread it out, then add some banana slices and cover with another slice of brioche. Pour the whipped cream into a piping bag, cut off the tip, and place the whipped cream on the French toast to form small waves. Add banana slices and the chocolate decoration. Enjoy!