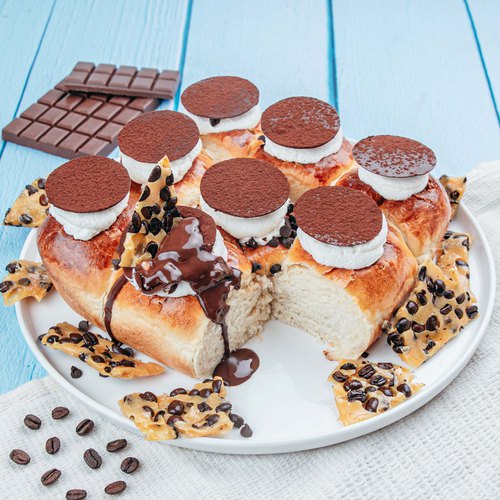 Coffee & Chocolate Sweet Bread
Coffee & Chocolate Sweet Bread! A sophisticated dessert for you 🍞🍫☕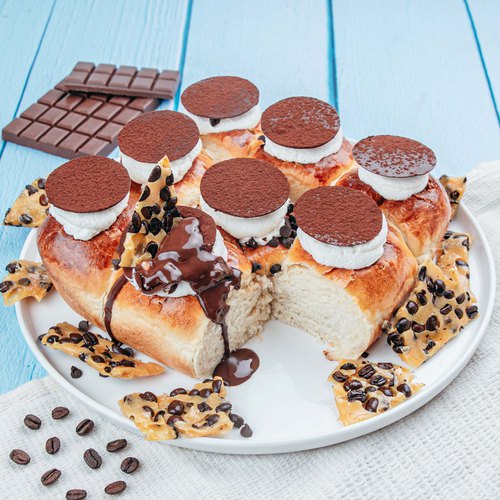 ---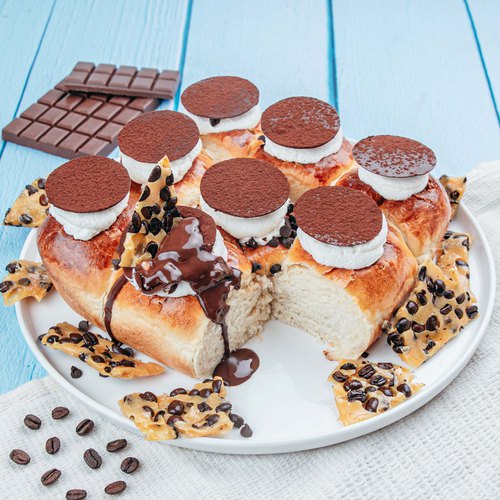 ---
Total time: 1 hour 10 minutes
Prep time: 40 minutes, Cook time: 10 minutes, Rest time: 20 minutes
Ingredients for 9 people
3 cups of flour
2 tsp of yeast
1/2 cup of sugar
1/2 cup of butter
1 egg yolk
0.3 cup of golden syrup (or molasses)
1 tsp of baking soda
1 3/5 cups of coffee beans
7 oz of dark chocolate
7 oz of mascarpone
0.4 cup of coffee
2 tbsp of chocolate chips
1 tbsp of cocoa powder
---
Tools
Plastic sheet protector
Piping bag
Shot glass
---
Step 1/3
Mix the flour, the yeast and 4 tablespoons of sugar. Add ¼ cup of soft butter, the egg, the lukewarm milk and knead by hand until you obtain a smooth dough . Let the dough rise for 2 hours at room temperature. Degas the dough, form a ball again, place it on a baking sheet and allow to rest for another 20 minutes. Bake the brioche for 20 minutes at 350°F.
Step 2/3
Heat the sugar, 4 tablespoons of water, the butter and the golden syrup in a saucepan over medium heat. Heat the mixture to 275°F and remove from the heat. Add the baking soda and mix. Spread the coffee beans on a baking sheet and pour the golden mixture over the coffee beans. Allow to cool and break into pieces.
Step 3/3
Melt the dark chocolate. Pour 9 chocolate dots on a plastic sheet protector and place a second plastic sheet protector on top. Press the dots to form chocolate circles and refrigerate for 20 minutes. Whip the mascarpone to obtain a whipped cream and place it in a piping bag. Form a space in each brioche and use a shot glass to enlarge the spaces. Pour the cold coffee into each space, then pipe the whipped cream into the spaces. Place the chocolate chips in the spaces and pipe the whipped cream again. Sprinkle the chocolate circles with cocoa powder and place the chocolate circles on the whipped cream. Arrange the coffee caramel shards around the brioche and enjoy!