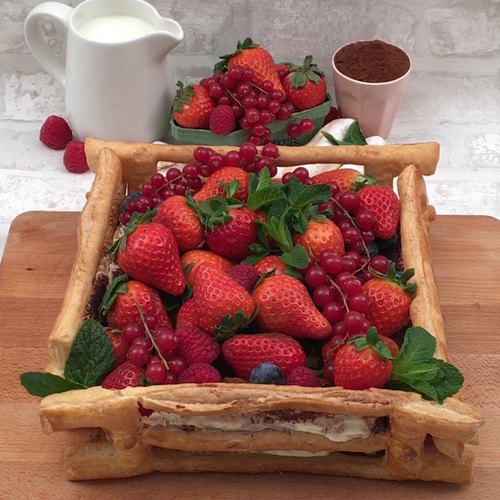 Tiramisu-box
Dessert delivery! ;)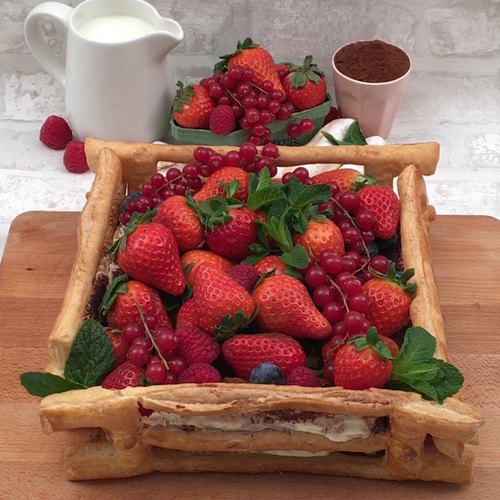 ---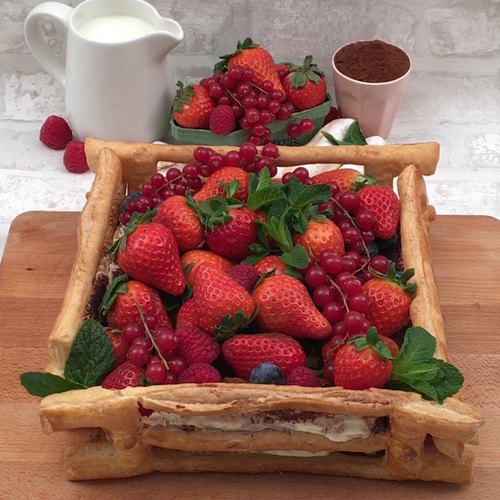 ---
Ingredients for 4 people
1 rectangular puff pastry
1 egg yolk
3 eggs
8 4/5 oz of italian mascarpone
1/3 cup of sugar
24 ladyfinger cookies
10 fl oz of coffee
cocoa powder
mixed berries
mint
---
Tools
Parchment paper
Pastry brush
Electric hand mixer
---
Step 1/4
Cut the puff pastry into 4 strips widthwise. Remove 4 same-sized squares from the 4 corners of 2 of the strips. Remove 1 same-sized square from the middle of the widths of the other strips. Roll 8 of the squares into balls and stick them to the pastry strips, in front of the now removed or formed squares. Remove 2 parallel strips of pastry from each large strip. Place the strips on a baking tray lined with parchment paper, brush with egg yolk, and bake for 20 minutes at 375 °F.
Step 2/4
Separate the eggs. Combine the mascarpone, egg yolks, and sugar. Whisk the egg whites until stiff and fold them into the mixture.
Step 3/4
When removed from the oven, assemble 3 strips of pastry on their long edge to form the box. Dip the ladyfingers into the coffee and place half of them between the pastry walls. Spread half of the mascarpone mixture over the ladyfingers, add a layer of ladyfingers on top, and cover again with mascarpone.
Step 4/4
Sprinkle with cocoa powder and close the box with the 4th side. Garnish with mixed berries and mint leaves and enjoy!