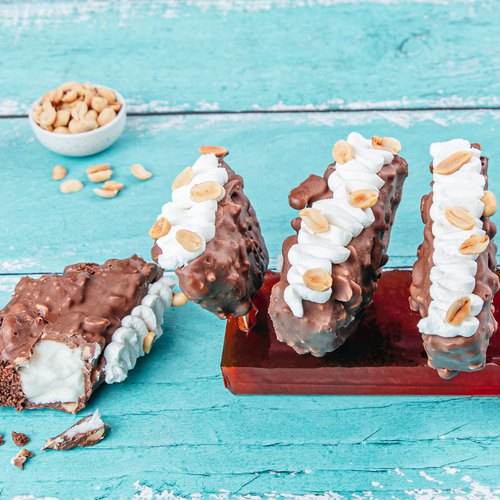 Caramel & Klondike Bar
Caramel & Klondike Bar! Make your favorite ice cream bar at home 😋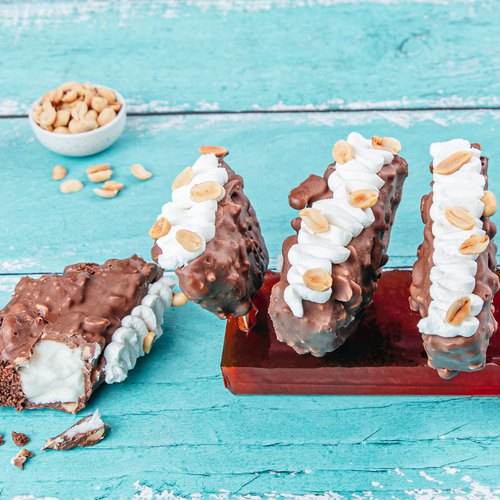 ---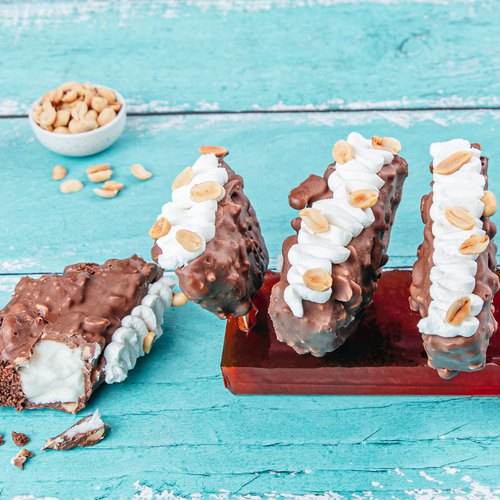 ---
Total time: 1 hour 17 minutes
Prep time: 40 minutes, Cook time: 7 minutes, Rest time: 30 minutes
Ingredients for 4 people
1 cup of flour
4 egg
1 1/2 cups of sugar
2 1/2 tsp of baking powder
3 tbsp of cocoa powder
1 pint of chefclub vanilla ice cream
4 soft caramels
7 oz of milk chocolate
3/5 cup of peanuts
1 cup of heavy cream
7 tbsp of powdered sugar
---
Tools
Shot glass
Popsicle sticks
Piping bag
parchment paper
---
Step 1/3
Mix the flour, the eggs, 1/2 cup of sugar, the baking powder and the cocoa powder until you obtain a smooth paste. Pour the cake mix into a mold and bake for 7 minutes at 350°F. Unmold the Chefclub vanilla ice cream, roll it up in the cake and cut 4 slices. Place the slices of cake and ice cream vertically, press in the center of the ice cream with a shot glass to form a space then place the soft caramels.
Step 2/3
Melt the milk chocolate, add the peanuts and mix. Cut the slices of cake and ice cream in 2, plant the ice cream stick at the end, coat them with the chocolate and peanut mixture and place in the freezer for 30 minutes. Whip the heavy cream and powdered sugar into whipped cream. Place the whipped cream in a piping bag and set aside.
Step 3/3
Melt the rest of the sugar in a saucepan to obtain caramel, line the rectangular mold with parchment paper and pour the caramel inside. Let the caramel cool and press down to form 4 spaces using an ice cream stick. Unmold the block of caramel from the mold and place it on a plate. Place the popsicles in the spaces of the block of caramel. Repeat the process for the other 4 popsicles. Pipe the whipped cream on top of the popsicles, sprinkle the rest of the peanuts and enjoy!