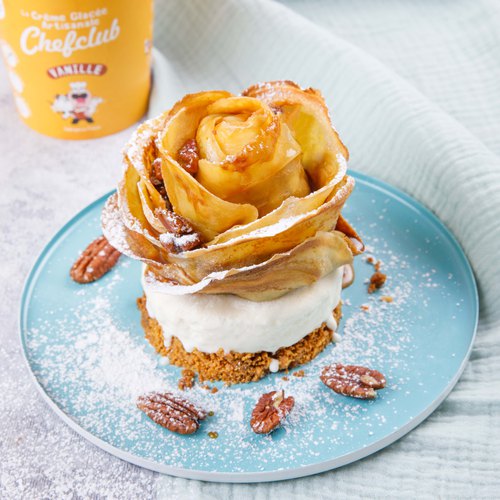 Beautiful Crepe Bouquet
Beautiful Crepe Bouquet! The perfect shareable treat 🌹💕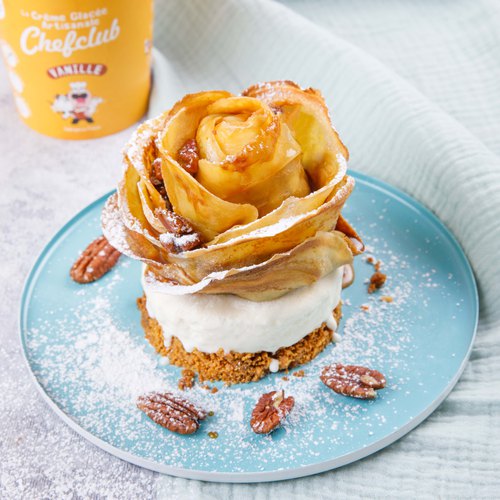 ---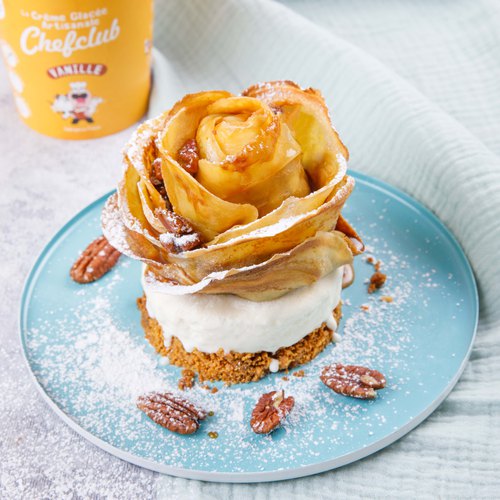 ---
Total time: 3 hours 15 minutes
Prep time: 40 minutes, Cook time: 15 minutes, Rest time: 2 hours 20 minutes
Ingredients for 3 people
1 1/2 cups of flour
2 cups of milk
3/5 cup of sugar
1/4 cup of butter
4 egg
5 tbsp of rum
1/2 cup of salted caramel sauce
15 pecans
4 oz of speculoos cookies
Powdered sugar
Chefclub vanilla ice cream
---
Step 1/5
Cut the apples into slices (with the skin) and cook over low heat in the syrup (¾ cup of water and ½ cup of sugar). Remove from heat and set aside.
Step 2/5
Crush the speculoos cookies in their bag and add the melted butter. Spread the cookies on parchment paper. Take a glass and make 3 discs, press to flatten them and refrigerate.
Step 3/5
Cut the ice cream in three and unmold onto the speculoos discs. Place in the freezer. Make small crepes (at least 36).
Step 4/5
Take 3 glasses, pour the caramel into each glass and add crushed pecans. Place the crepes on the edge of a glass, then the drained apple petals and close the crepes around the apples (make 3 crepe and apple roses). Bake 15 minutes at 350°F.
Step 5/5
Place the roses on the ice cream discs. Drizzle the caramel sauce and pecans. Add some powdered sugar on top. Enjoy!