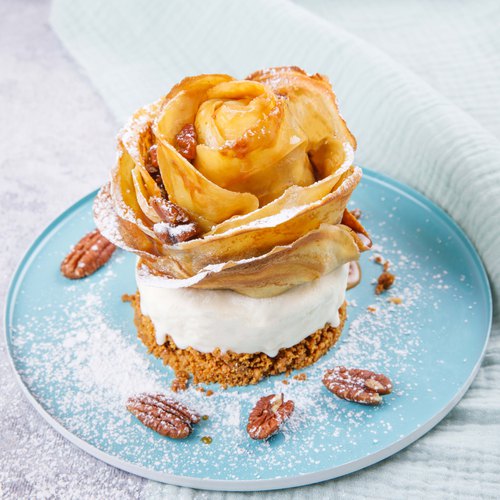 Pancake Roses
Pancake Roses! A delicious edible bouquet 🌹🥞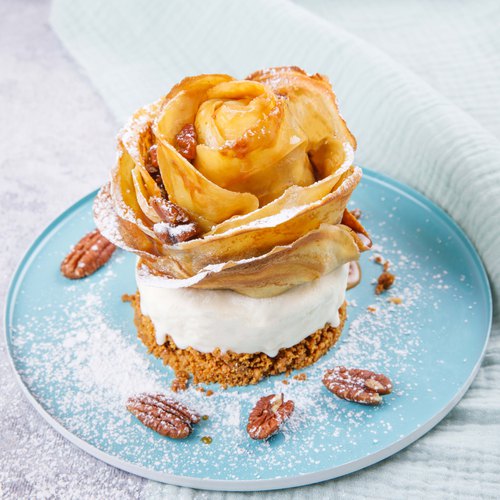 ---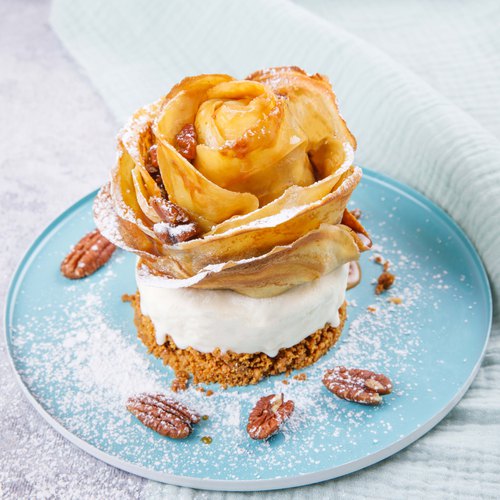 ---
Total time: 3 hours 15 minutes
Prep time: 40 minutes, Cook time: 15 minutes, Rest time: 2 hours 20 minutes
Ingredients for 3 people
1 3/5 cups of flour
2.1 cups of milk
1/2 cup of powdered sugar
1/4 cup of butter
4 egg
0.3 cup of rum
5.3 oz of caramel sauce
15 pecans
4/5 cup of water
2 apples
4.4 oz of speculoos cookies
1 pint of vanilla extract
Powdered sugar
---
Step 1/4
Mix the flour, milk, 3 tbsp of sugar, 3.5 tbsp of melted butter, eggs and rum until you obtain a crepe batter. Let it rest for 2 hours in the fridge and cook 36 crepes. Place the caramel sauce in 3 glasses, break the pecans in 2 and place them in the caramel. Place the crepes on the edge of the glass, starting from the middle.
Step 2/4
Heat the water with the rest of the sugar to make a syrup. Cut the apples into thin strips, cook over low heat with the syrup and allow to cool. Arrange the apple slices on the crepes and cover them with another crepe. Roll one crepe over itself and place it in the center. Repeat the process twice, place the cups on a baking sheet and bake for 15 minutes at 350°F.
Step 3/4
Crumble the cookies, melt the rest of the butter and mix well. Spread the crumbs on a plate making 3 circles. Cut the vanilla ice cream into 3 discs and place them on the cookie circles. Place in the freezer for 20 minutes.
Step 4/4
Place the cookie and ice cream discs on a plate. Place the crepe rose on top and gently lift the glass. Sprinkle with powdered sugar and enjoy!