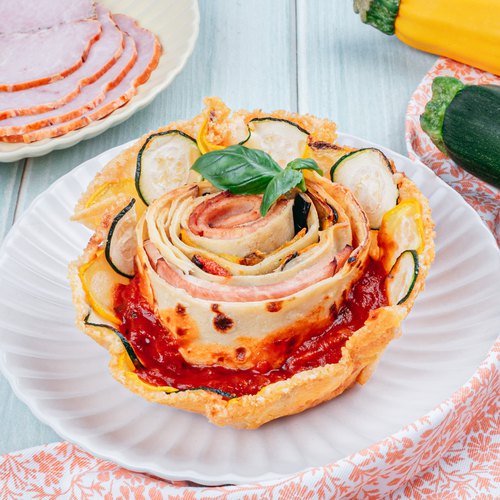 Provencal Crepes
Provencal Crepes! With ham, zucchini, mozzarella and tomato sauce 😋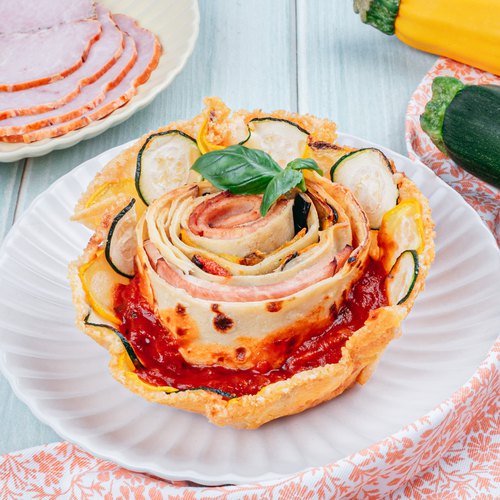 ---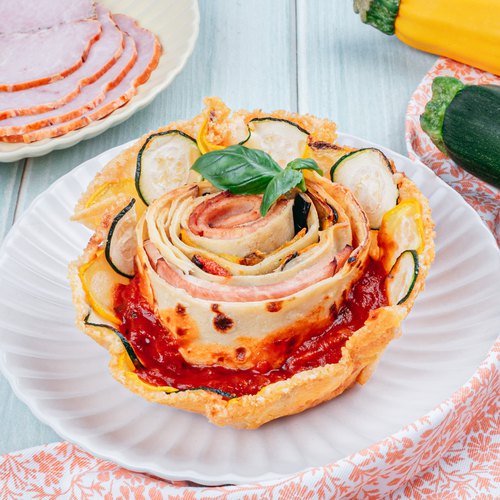 ---
Total time: 1 hour
Prep time: 35 minutes, Cook time: 25 minutes
Ingredients for 5 people
4 egg
1.9 cups of milk
1 1/2 cups of flour
1 eggplant
1 yellow zucchini
1 zucchini
2 tomatoes
8 slices of ham
2 balls fresh mozzarella
Basil leaves
5.2 oz of parmesan
15 black olives
---
Step 1/3
Mix the milk, eggs and flour until you get a smooth crepe batter and set it aside. Cook the crepes.
Step 2/3
Cut half the zucchini, half the yellow zucchini, the eggplant and the tomatoes into slices. Arrange the vegetable slices in a circular dish, alternating the slices and bake for 15 minutes at 350°F. Overlap the ends of 4 crepes to form a row. Place a slice of ham on each crepes. Place the slices of cooked vegetables next to the ham. Cut the mozzarella into pieces and place it on the cooked vegetables, add the basil and roll up the crepes to form a roll. Cut the roll into 8 and place them vertically in the mold. Bake for 10 minutes at 350°F.
Step 3/3
Cut the rest of the zucchini, yellow zucchini into slices. Place the parmesan in a hot pan, place and crush 3 black olives in the center of the pan, arrange the zucchini slices around the black olives, alternating the zucchini slices. Allow to cook until you get a parmesan tuile, place it on an upside-down bowl and unmold it so that the parmesan tuile forms a cup. Repeat the process to have 5. Pour the tomato sauce into each parmesan dish, place the crepe rolls in the center of each dish and add the basil. Serve and enjoy!