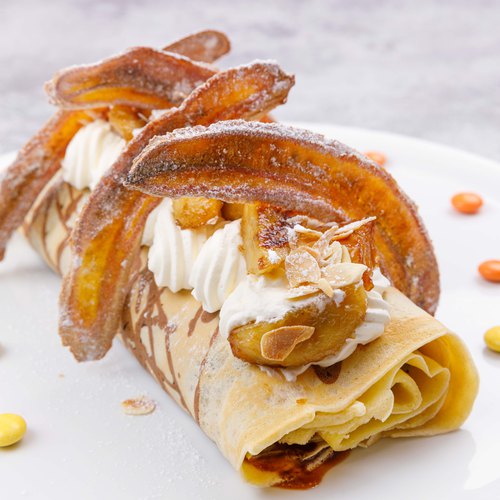 Marbled Crepe Roll
Marbled Crepe Roll! This dessert is increpeable 😚🍌🍫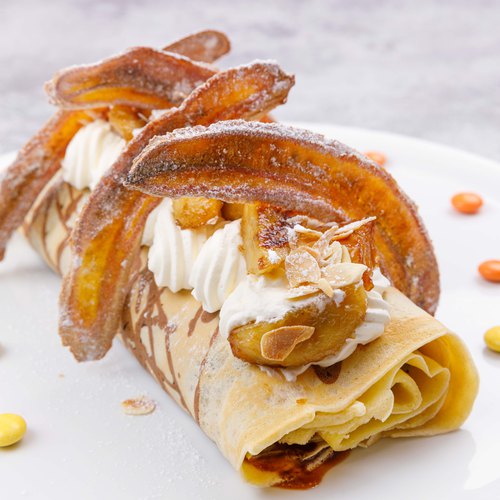 ---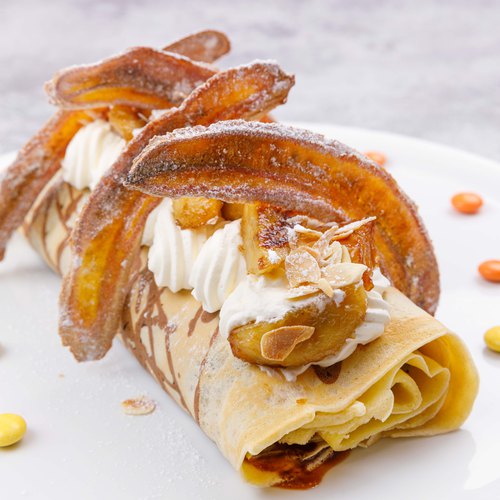 ---
Total time: 2 hours 15 minutes
Prep time: 1 hour 30 minutes, Cook time: 45 minutes
Ingredients for 6 people
4 egg
2.1 cups of milk
2 tbsp of sugar
3 tbsp of cacao powder
3 bananas
6 tbsp of chocolate hazelnut spread
3 tbsp of powdered sugar
0.3 cup of butter
2 tbsp of rum
4/5 cup of heavy cream
Sliced almonds
---
Tools
Piping bag
parchment paper
---
Step 1/4
Remove and drill three triangle-shaped holes in the lid of the cacao box and clean it. Mix the milk, the eggs, 1 tablespoon of sugar, then melt 3 tbsp of butter and incorporate it into the preparation to obtain a crepe batter. Pour a third of the batter into the cacao box, add the cacao powder, then mix and close the box with the lid.
Step 2/4
Pour half of the chocolate batter in lines on the griddle, cover it with half of the plain crepe batter and spread it. Choose a very ripe banana and mash it, then cut off one end and place the mashed bananas on the crepe. Add the spread and the sliced almonds, then roll the crepe using spatulas and move the roll to the side of the plancha. Repeat the process to obtain a roll of several crepes and place it on a plate.
Step 3/4
Whip the heavy cream and the powdered sugar into whipped cream, place it in a piping bag, then pipe the cream on top of the roll. Cut two thin slices from a banana, place them on a baking sheet covered with parchment paper, add 1 tablespoon of powdered sugar and bake for 30 minutes at 300°F.
Step 4/4
Cut up the remaining bananas, flambé them with the remaining butter and rum in a hot pan and place them on the whipped cream. Add the banana chips, sprinkle with sliced almonds and powdered sugar. Serve and enjoy!