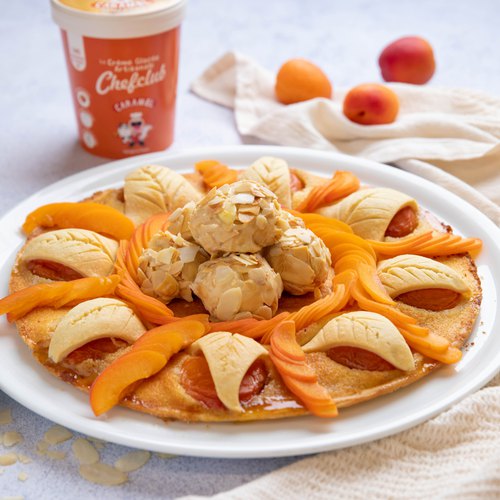 Apricot & Caramel Pie
Apricot & Caramel Pie! A sweet and sunny dessert to brighten up your day!🍊🥧🌞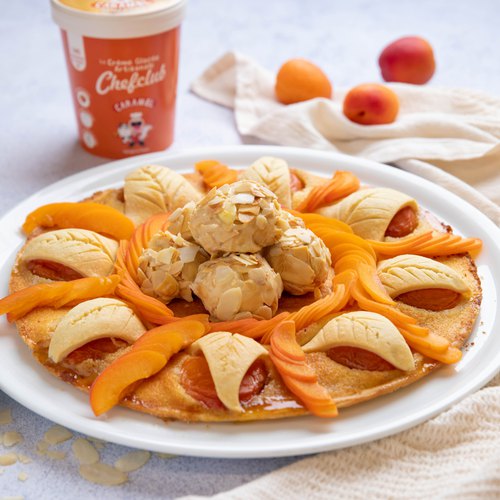 ---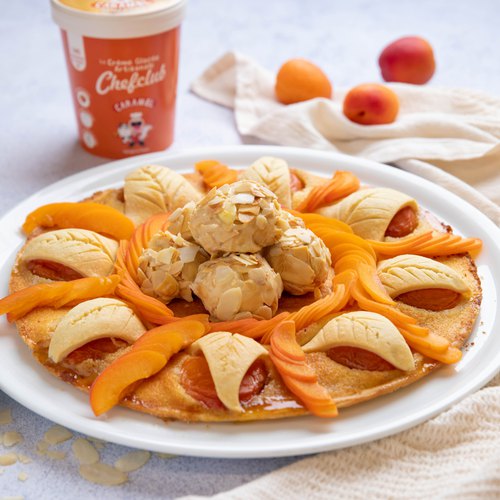 ---
Total time: 50 minutes
Prep time: 30 minutes, Cook time: 20 minutes
Ingredients for 4 people
3 1/2 oz of sliced almonds
12 apricots
1 pint of chefclub caramel ice cream
8 caramels
1/2 cup of butter
4 tbsp of sugar
2 egg
1 cup of almond flour
2 shortbread crust
---
Tools
Pizza cutter
parchment paper
---
Step 1/4
Arrange the sliced almonds on a rectangular sheet of parchment paper, then place 1 scoop of Chefclub caramel ice cream on top. Grab both ends of the parchment paper to lift it up and roll the scoop of ice cream over the almonds to coat. Repeat the process to obtain 5 scoops of coated ice cream.
Step 2/4
Incise 1 apricot in the center to pit it and repeat with 3 more apricots to obtain 8 half-apricots. Place 1 caramel candy in the center of each half-sphere.
Step 3/4
Whip the butter to soften it. Add the eggs and almond flour and mix. Place the shortcrust pastry in a springform pan and spread the sides of the pan with the almond cream. Place the apricots (caramel side down) in a circle. Cut 8 pieces of dough with the pizza cutter then fold the center of the pieces towards each apricot located above to leave a circle in the center. Slightly incise the folded dough in two then draw streaks on each side to make leaves.
Step 4/4
Cut a disc of shortcrust pastry the size of the center to place it in the center and pack in the edges. Add almond cream to the disc and bake for 20 minutes at 350°F. Halve the remaining apricots and cut them into thin strips, then stretch the strips to arrange them in a circle on the center of the pie. Place the rest of the strips vertically around each turned apricot. Arrange the scoops of ice cream in the center of the pie. Serve and enjoy!