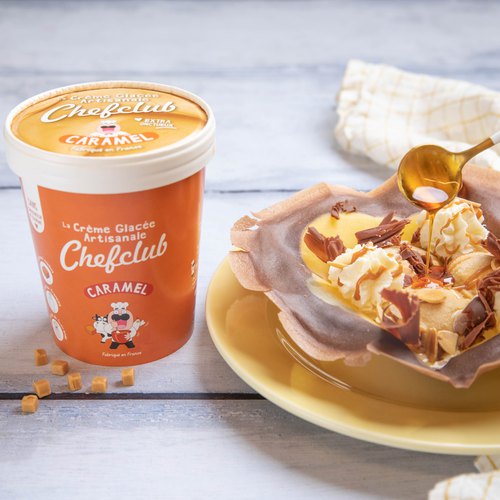 Frozen Pancake Flower
Frozen Pancake Flower! Pretty pancake petals with ice cream 🍦🍫🌸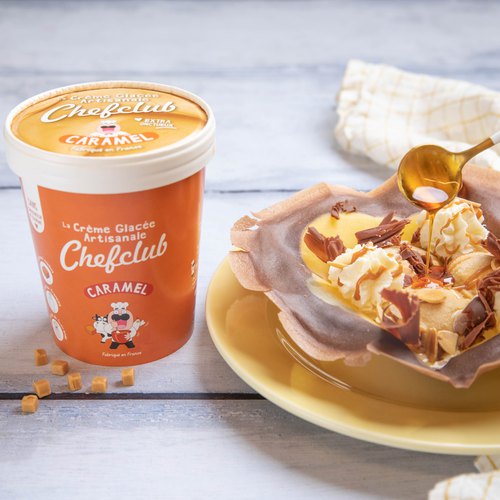 ---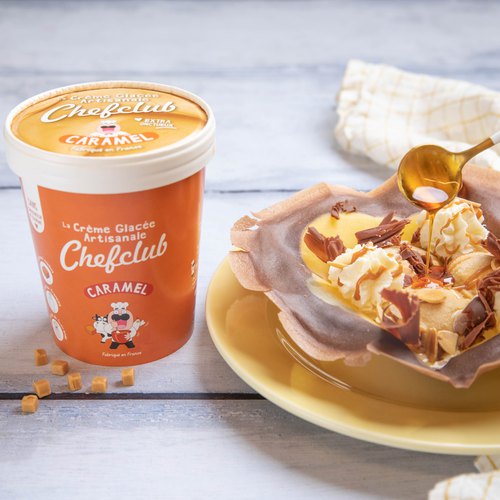 ---
Total time: 1 hour 45 minutes
Prep time: 35 minutes, Cook time: 40 minutes, Rest time: 30 minutes
Ingredients for 3 people
4 egg
1 1/2 cups of flour
1.9 cups of milk
4 tbsp of sugar
3 1/2 tbsp of butter
1 cup of cocoa powder
Rum
Vanilla extract
3 1/2 oz of milk chocolate
3 1/2 oz of white chocolate
1 pint of chefclub caramel ice cream
Sliced almonds
1/2 cup of whipped cream
Salt
Caramel sauce
---
Tools
Ramekins
---
Step 1/4
Mix the flour, sugar and a pinch of salt in a bowl and form a well. Add the eggs and mix gently until the batter thickens. Gradually add the milk while continuing to mix. Melt the butter and pour it with a drizzle of rum and vanilla extract. Allow to rest for 30 minutes in the fridge.
Step 2/4
Place the cocoa powder in a bowl and pour half of the pancake batter then mix to until smooth. Cook 3 pancakes: pour the preparation into a hot wok. Turn the pan in a circular way to have the dough all around the pan. Using a glass, cut out the inside to shape a flower. Pour the plain pancake batter in the center. Cut a circle in the middle to extract the center of the pancake using a glass. Pour the cocoa batter in the center and flip to cook the other side.
Step 3/4
Place the pancakes over ramekins on a baking sheet to create a cup shape. Bake for 40 minutes at 195°F.
Step 4/4
Scrape the surface of the chocolate bars with a spoon to obtain shavings. Place the chocolate shavings in a bowl. Arrange the pancake cups on plates. Place 2 scoops of Chefclub caramel ice cream in each cup and add a dash of whipped cream. Drizzle with caramel sauce and sprinkle with sliced almonds and chocolate shavings. Serve and enjoy!