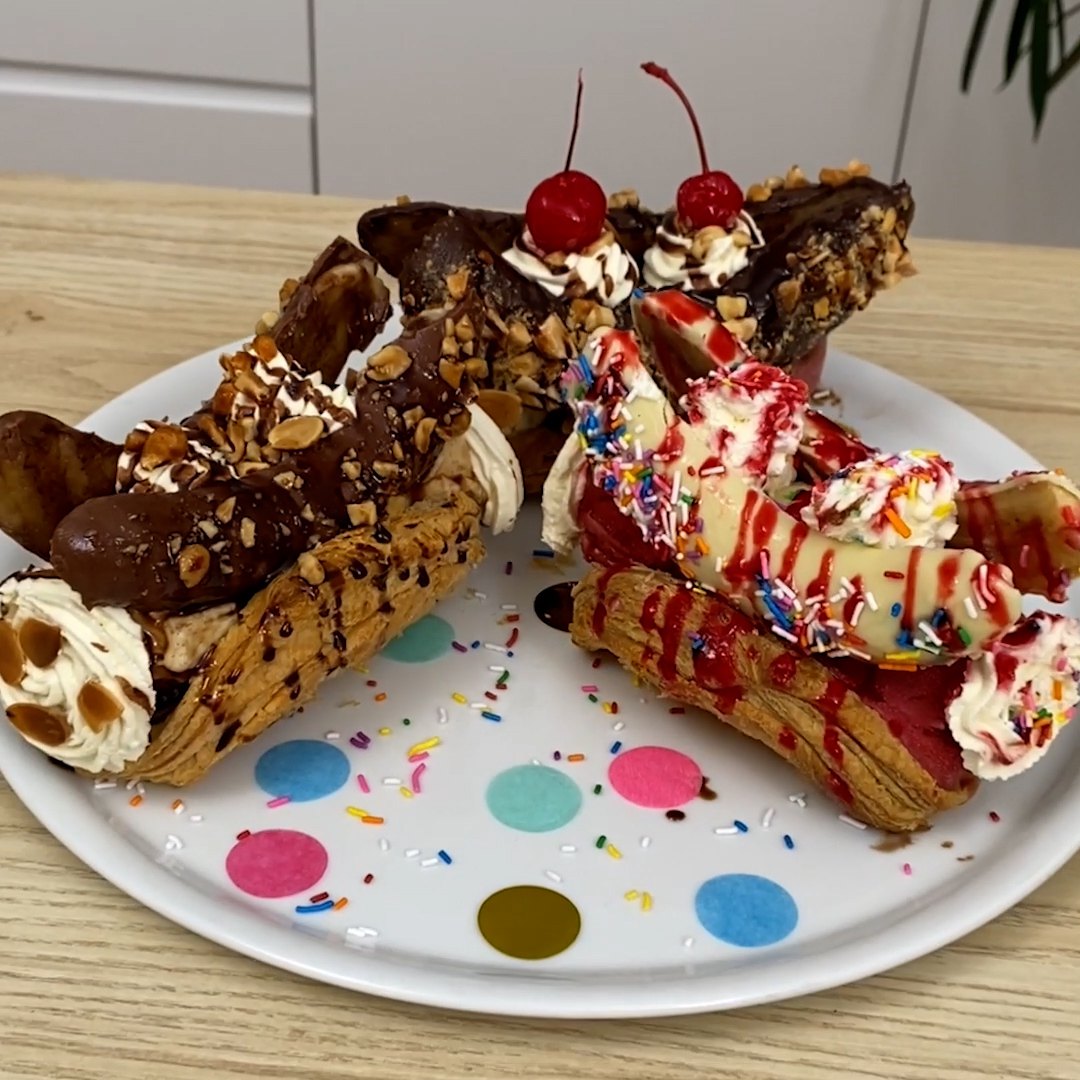 Ice Cream Sundae Tacos
Quite possibly the coolest tacos you've ever tasted! 🍦🎉💗
Made by you!
Ingredients
1 can crescent rolls (8 oz)
Flour
3 bananas
1/3 cup melted dark chocolate
1/3 cup melted milk chocolate
1/3 cup melted white chocolate
Chopped peanuts
Sprinkles
Chopped almonds
5 scoops vanilla ice cream
3 scoops strawberry sorbet
1 scoop chocolate ice cream
Whipped cream
Chocolate syrup
Strawberry syrup
Tools
Rolling pin
Cooling rack
1. Begin by cutting the crescent dough into 3 sections. Sprinkle with flour and flatten. Place the 3 flattened dough circles on a wooden rolling pin and bake in the oven for 25 minutes at 350 °F.
2. Meanwhile, prepare the bananas. Cut three bananas in half lengthwise, remove skin, and place downwards on a cooling rack with a baking sheet below. Pour melted dark chocolate over two halves. Repeat with the melted milk and white chocolate. Sprinkle chopped peanuts over the dark chocolate, sprinkles over the white chocolate, and chopped almonds over the milk chocolate. Chill for 30 minutes.
3. Remove the crescent roll tacos from the oven and let cool. Once cooled, add in three scoops of ice cream to each taco. Decorate with the chocolate covered bananas, whipped cream, and toppings. Drizzle with chocolate and strawberry syrup and top with maraschino cherries. Enjoy!
Similar recipes from Chefclub