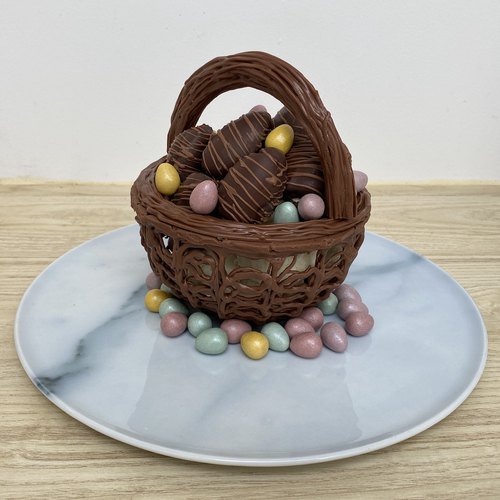 Mini Donut Basket
Chocolate covered and cream-filled donuts with sweet vanilla ice cream 🍫🍩🍦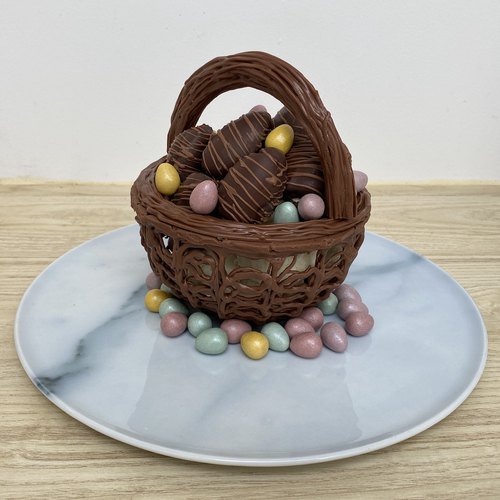 ---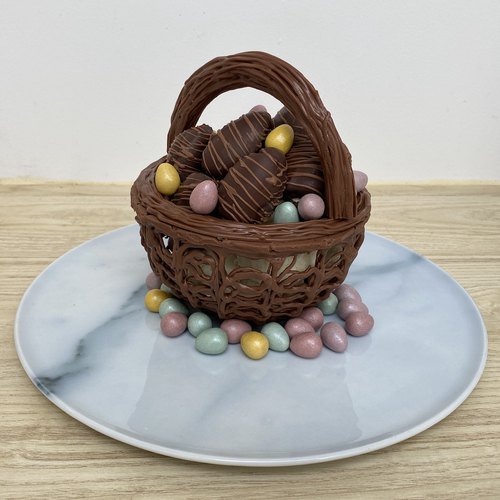 ---
Ingredients for 3 people
5 2/3 cups of milk chocolate
3 1/2 cups of milk
1/3 cup of butter
1 2/3 tsp of sugar
2/3 cup of flour
4 eggs
2 1/2 tbsp of mascarpone
4 1/8 cups of heavy whipping cream
1 1/2 tbsp of powdered sugar
1 vanilla bean
2 cups of melted dark chocolate
salt
chefclub vanilla ice cream
---
Tools
Skewers
Parchment paper
Plastic wrap
Freezer bags
---
Step 1/5
Wrap a bowl in parchment paper and plastic wrap. Melt 3 1/8 cups milk chocolate in the microwave, pour into a freezer bag, cut a corner, and draw a basket on the bowl. On parchment paper, draw 2 discs the size of the bowl, turn the sheet over, and make two thick discs with the remaining melted chocolate. Put all of the chocolate decorations in the fridge for 30 minutes.
Step 2/5
Remove the basket from the bowl and place one of the chocolate discs on a warm plate to adhere to the basket. Cut the second disk in half, place the halves on the hot plate, and stick them together to serve as a handle for the basket.
Step 3/5
In a saucepan, add the milk, 3 1/2 cups water, butter, sugar, and a pinch of salt. Then add the flour and mix well. Remove from the heat and add the eggs one by one, stirring between each addition. Pour the mixture into a freezer bag, cut off a bottom corner to make a piping bag, and draw small egg shapes onto a parchment lined baking sheet. Bake for 15 minutes at 350 °F.
Step 4/5
Whip the mascarpone, heavy whipping cream, powdered sugar, and vanilla bean seeds. Using a piping bag, fill the inside of the baked mini donuts with whipped cream. Then stick 3 skewers in each donut and dip and cover with melted dark chocolate. Melt 1/2 cup milk chocolate and drizzle it on the chocolate covered mini donuts. Let them dry and then remove the skewers.
Step 5/5
Place scoops of vanilla ice cream in the basket and then add in the mini chocolate coated donuts. Serve and enjoy!