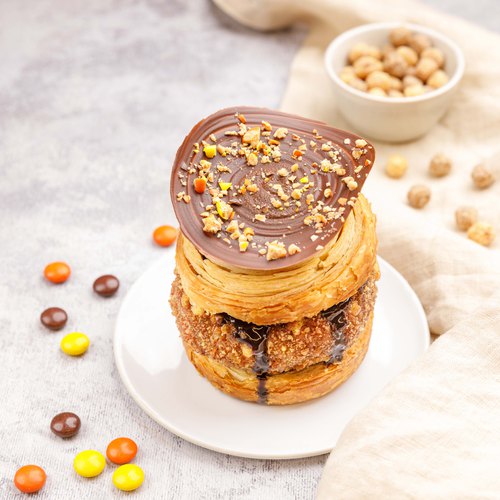 Fried ice cream sandwich
The chefclub ice cream truck is around the corner :)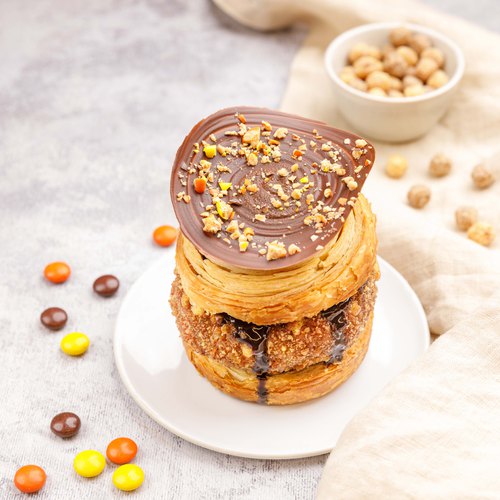 ---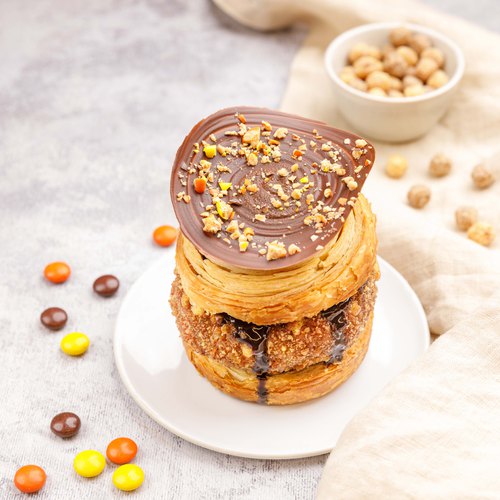 ---
Total time: 2 hours 30 minutes
Prep time: 30 minutes, Cook time: 1 hour , Rest time: 1 hour
Ingredients for 3 people
3 sheets of puff pastry
1 1/4 cups of dark chocolate
1 1/4 cups of reese's pieces
1 pint of chefclub caramel ice cream
4 cups of reese's puffs
6 eggs
sunflower seed oil
1/2 cup of chocolate sauce
---
Tools
Wooden popsicle sticks
Ramekins
Spinning table
Pastry brush
Plastic sheet
Glass jar
Rolling pin
Freezer bag
---
Step 1/4
Cut 3 strips of puff pastry 33 inches long and 2.5 inches wide. Roll and place in a Ramekin 3 inches in diameter, then bake for 350 °F for one hour.
Step 2/4
Place the chocolate in a freezer bag and melt by pouring hot water over it, then place a dollop of melted chocolate onto a plastic sheet. Put onto a spinning table and spread the chocolate into a circle with a pastry brush while spinning the table. Chop 1/4 cup of the Reese's Pieces, then sprinkle a pinch over the chocolate disc, place in a glass jar, and let chill in the fridge for 30 minutes. Repeat twice more so you have 3 chocolate discs.
Step 3/4
Make 3 incisions several inches apart down the side of the ice cream carton and place wooden ice cream sticks inside. Cut the ice cream carton into 3 sections and remove the paper from the edges so you have 3 ice cream discs. Sprinkle all sides with the remaining Reese's Pieces and let chill in the freezer for 30 minutes.
Step 4/4
Crush the Reese's Puffs with a rolling pin, dip the ice cream discs into the whisked eggs, then cover in the crushed cereal. Repeat. Deep fry in hot oil at 350 °F for 20 seconds each. Remove cronuts from ramekins, cut in half to form two "buns", and place on serving tray. Place the ice cream disc on top of one cronut half, drizzle with chocolate sauce, and top with other cronut half. Attach the chocolate decorations with the remaining melted chocolate. Serve and enjoy!