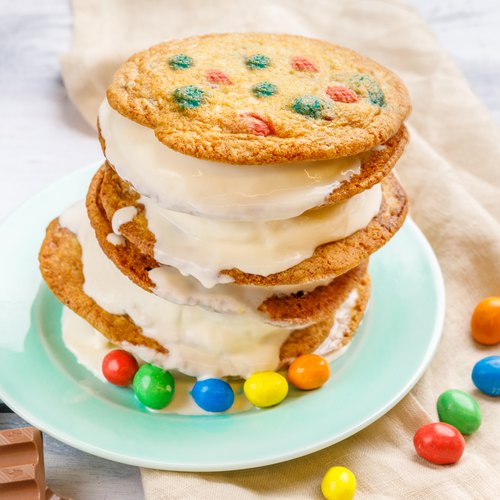 Mega Ice Cream Sandwich
Mega Ice Cream Sandwich! Treat your sweet tooth with cookies & ice cream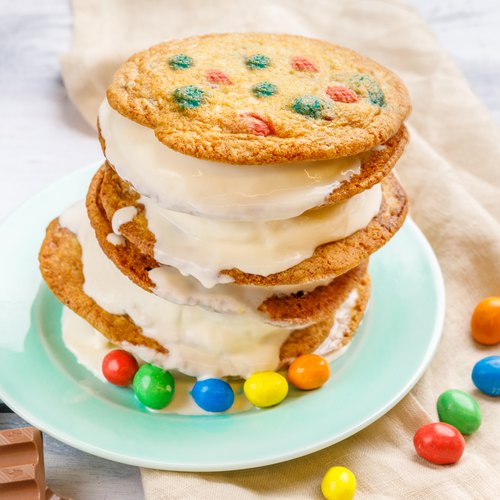 ---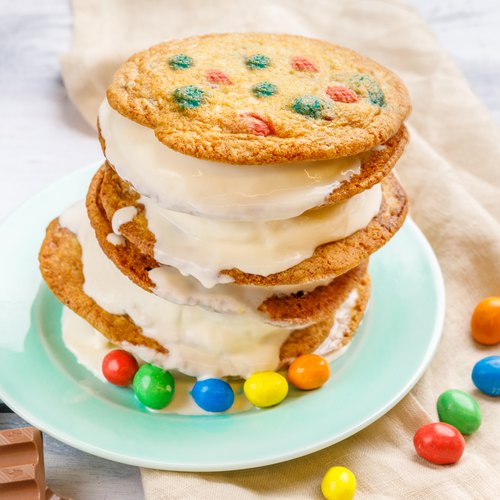 ---
Total time: 40 minutes
Prep time: 30 minutes, Cook time: 10 minutes
Ingredients for 4 people
Cookie dough
M&m's
Stuffed chocolate bars
Reese's mini
Vanilla ice cream
---
Tools
parchment paper
Large sponge
---
Step 1/4
Press the cookie dough onto a plate of M&M's so that the candies can incorporate into the dough. Flip the dough and repeat the process with a plate of stuffed chocolate bars, and on the final side with a plate of Reese's mini. Cut the cookie ball by dividing each side.
Step 2/4
Roll each portion of dough into a log using a bit of flour, then divide it into 5 pieces and flatten them to obtain cookies. Place each cookie onto a baking sheet lined with parchment paper and bake for 10 minutes at 350°F.
Step 3/4
To remove the Chefclub vanilla ice cream from the container, apply a little hot water with a sponge to loosen it. Then, flip the container over and cut around the edge to remove the bottom, remove the lid, and place the ice cream onto a glass to apply pressure and push it out. Cut as many slices as possible and store them in the refrigerator.
Step 4/4
Assemble the tower by alternating cookies and ice cream slices. Finish with a cookie and enjoy it as a sandwich!