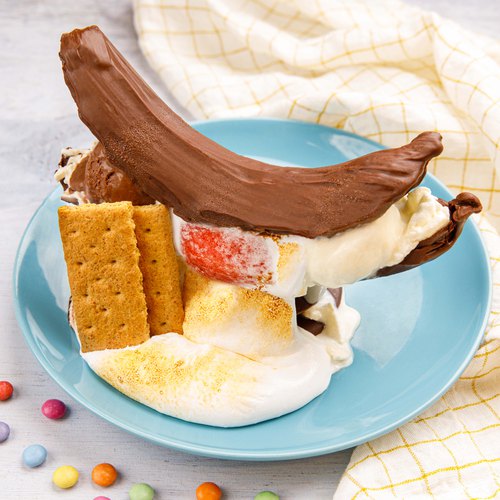 Banana Split
Take the classic banana split to a new level 🍌🍨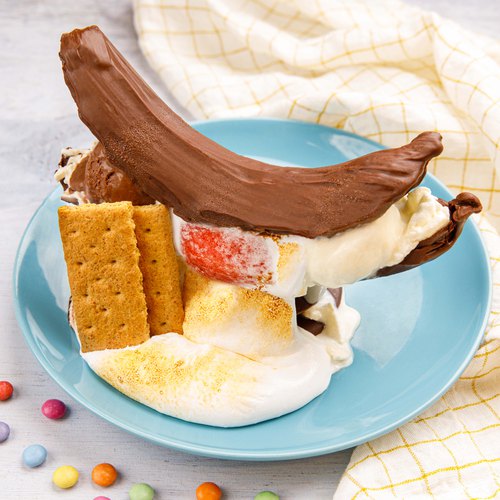 ---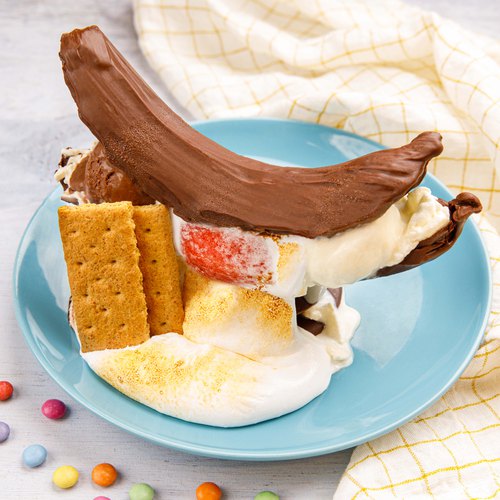 ---
Total time: 1 hour
Prep time: 20 minutes, Rest time: 40 minutes
Ingredients for 4 people
4 cups of milk chocolate
2 bananas
1 can of whipped cream
chefclub vanilla ice cream
chefclub strawberry sorbet
chefclub chocolate ice cream
1 cup of marshmallow fluff
graham cracker
---
Tools
Wooden skewers
Parchment paper
Blowtorch
---
Step 1/4
Melt the chocolate and let cool to room temperature. Pierce two bananas with two wooden skewers at the top end and suspend them from 2 champagne glasses, with a recipient below to catch any excess chocolate. Make sure both bananas are covered completely in melted chocolate, then place in the fridge for 30 minutes. Pour the remaining melted chocolate in a squeeze bottle and make two sets of 8 circles on a parchment lined baking sheet, making each circle slightly larger than the previous. Then place the baking sheet in the freezer for 20 minutes.
Step 2/4
Remove the chocolate discs from the freezer and make two stacks of 8 circles, using the remaining melted chocolate to "glue" the discs together. Then return to the freezer for 20 minutes.
Step 3/4
Remove the bananas from the fridge, then cut in half lengthwise and remove the banana flesh, cutting them into long strips. Then carefully remove the banana peels and discard. Fill two of the chocolate shells with a layer of whipped cream, a strip of banana, a second layer of whipped cream, and a final strip of banana.
Step 4/4
"Glue" the banana boat to the chocolate disc stand with a bit of additional melted chocolate. Microwave the marshmallow fluff for 30 seconds, then add a scoop of vanilla, strawberry, and chocolate ice cream to each banana split. Pour the marshmallow fluff over both banana splits, toast with a blowtorch, and top with the remaining chocolate shells. Serve with graham crackers and enjoy!