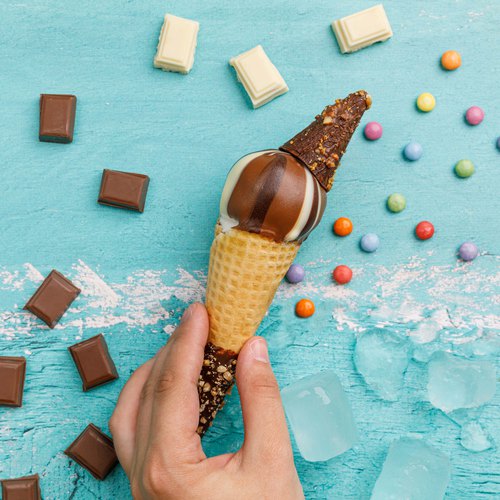 Zebra cones
Homemade ice cream cones for a unique treat!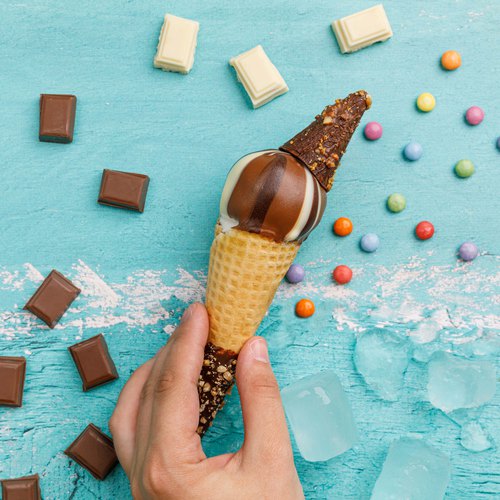 ---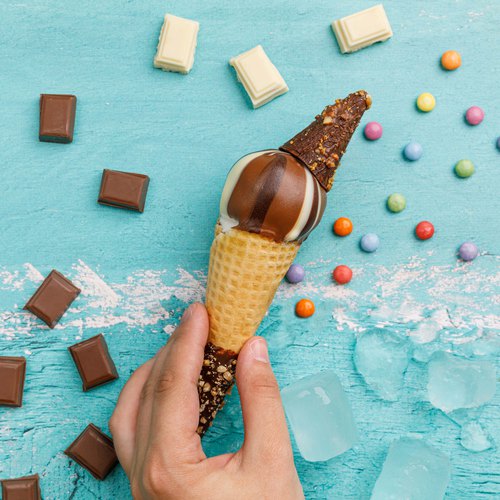 ---
Total time: 2 hours 5 minutes
Prep time: 35 minutes, Rest time: 1 hour 30 minutes
Ingredients for 3 people
3 ice cream cones
1 cup of milk chocolate
1/2 cup of hazelnuts
6 tsp of rum
1 container of chefclub vanilla ice cream
1 cup of dark chocolate
1 cup of white chocolate
---
Tools
Parchment paper
Ice cream scooper
Freezer bags
---
Step 1/4
Place 1 cone in a stemmed glass and line the inside with parchment paper. Pour water up to the rim of the cone, place a spoon in the water, and set aside in the freezer for 1 hour. Melt the milk chocolate and pour some of the melted chocolate in a glass. Dip the ice cone ⅔ of the way into the glass of melted milk chocolate, then roll the frozen chocolate in chopped hazelnuts and remove the chocolate from the ice cone. Repeat 2 more times. Set the cones and the chocolate decorations in the fridge for 30 minutes.
Step 2/4
Take the chilled cones, dip the tips of the cones in the melted milk chocolate, and roll them in hazelnuts. Pour a little melted milk chocolate into each cone and spread it all over the inside, sprinkle with hazelnuts and set the cones in the fridge.
Step 3/4
Pour 2 tsp rum into an ice cream scoop, heat the scoop with a blowtorch, then form scoops of Chefclub vanilla ice cream and place 2 scoops per cone. Repeat for each cone. Keep them chilled in the fridge.
Step 4/4
Put some of the melted milk chocolate in a bowl. Melt the dark chocolate, white chocolate, then place in separate freezer bags. Also place the remaining milk chocolate in a freezer bag. Cut the bottom corner of each bag and draw lines of white, milk, and dark chocolate until they cover the entire top of the milk chocolate bowl as seen in the video. Dip the ice cream cones into the bowl to make a triple chocolate coating. Place the chocolate decorations on top of the cones and enjoy!