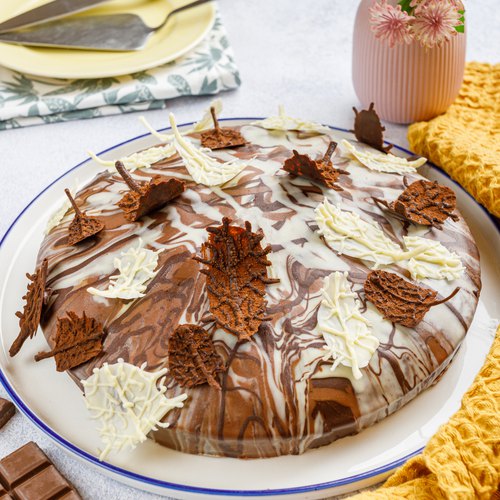 Autumn Leaves Cake
This marble cake swirls like the falling fall leaves 🍂🍁🍫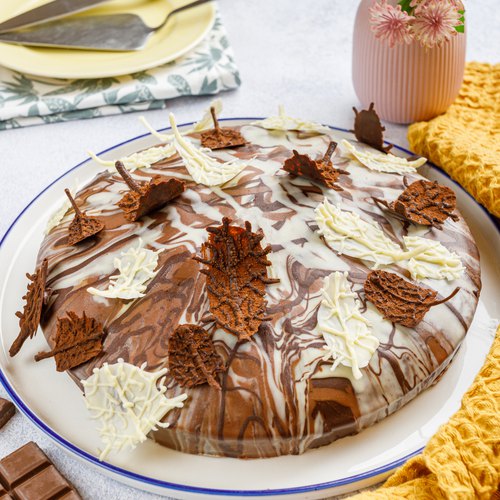 ---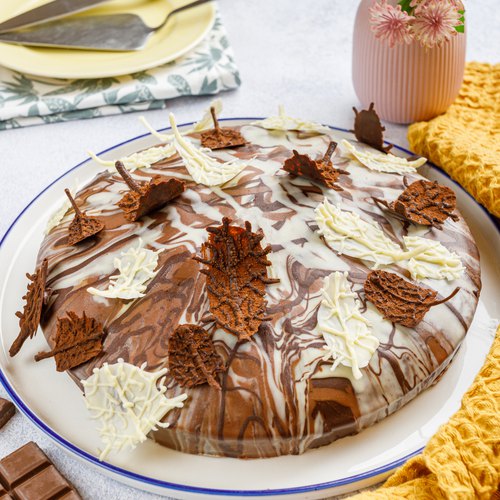 ---
Total time: 1 hour 35 minutes
Prep time: 35 minutes, Cook time: 30 minutes, Rest time: 30 minutes
Ingredients for 8 people
5 eggs
1 1/4 cups of sugar
1 2/3 cups of flour
1 vanilla bean
1/2 cup of heavy cream
3/4 tsp of baking powder
1/3 cup of butter
2 2/3 tbsp of cocoa powder
2/3 cup of milk chocolate
1 cup of dark chocolate
1 cup of white chocolate
salt
---
Tools
Plastic bottle
Round cake pan
Sponges
Plastic sheet
Squeeze bottles
---
Step 1/4
For the cake batter: Mix together the eggs, sugar, 1 pinch of salt, flour, vanilla bean, heavy cream, and baking powder, then mix in the melted butter little by little. Pour half of the mixture into a bowl and add the cocoa powder to the remaining part.
Step 2/4
Cut the plastic bottle in half and place the bottom half upside down in the center of a cake pan. Pour the plain cake batter onto the upside down half of the bottle, then alternate with the cocoa batter to create a marble pattern. Continue alternating batters until the cake pan is almost filled, carefully remove the bottle from the pan, and bake for 1 hour 30 minutes at 285 °F.
Step 3/4
Melt the dark and white chocolate and place each in a separate bowl. Cut sponges in half lengthwise, then cut a square from each sponge. Dip one square into the dark chocolate, then dab onto a plastic sheet and make 6 leaves. Repeat the action with the other sponge square and the white chocolate. Form a cone with parchment paper and pour the rest of the melted dark chocolate inside, then make lines on the dark chocolate leaves. Repeat with white chocolate leaves. Sprinkle cocoa powder over the dark chocolate leaves and set aside in the refrigerator for 30 minutes.
Step 4/4
Melt the milk chocolate and place in a squeeze bottle. Next, place the remaining white chocolate in a squeeze bottle. After, pour the remaining melted dark chocolate over the marble cake for the glaze, then use the two squeeze bottles and decorate the cake in a marble pattern (see video). Gently place the chocolate leaves on top, serve, and enjoy!