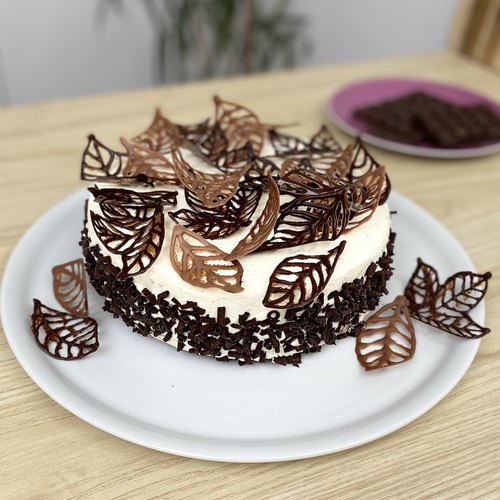 Chocolate Sponge Cake
Decorated with delicious leaf shaped chocolates 🍫🍃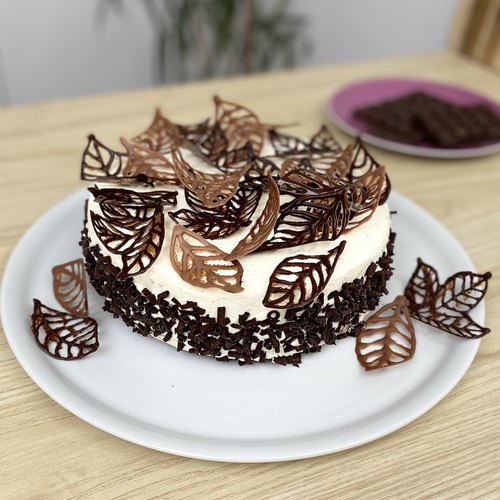 ---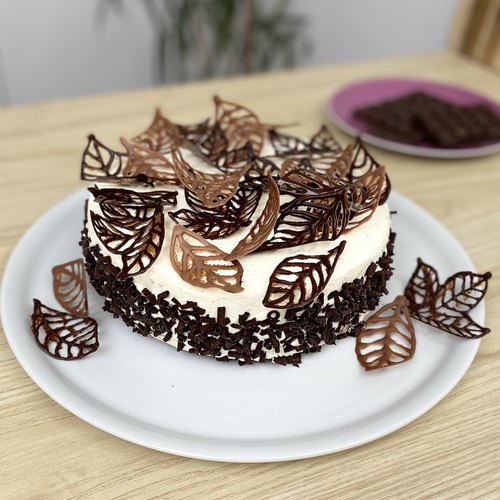 ---
Ingredients for 6 people
2 1/2 cups of dark chocolate
1 1/4 cups of milk chocolate
5/8 cup of butter
4 eggs
3/4 cup of flour
2 tsp of baking powder
1/4 cup of powdered sugar
1 1/4 cups of heavy cream
chocolate shavings
2/3 cup of sugar
---
Tools
Foam block
Plastic sheet cover
Electric mixer
Box cutter
---
Step 1/5
Cut the plastic sheet cover into 4 strips. Cut a leaf shape from the foam block with a box cutter and dip it in 1 1/4 cups melted dark chocolate to use as a stamp on one of the plastic strips. Make 3 dark chocolate leaves. Melt 1 1/4 cups milk chocolate and make 3 milk chocolate leave stamps on the second strip. Cut out a 3 pointed leaf from the other block of foam and make 2 milk chocolate leaves and 2 dark chocolate leaves on the remaining strips.
Step 2/5
Roll a sheet of parchment paper into a cone and pour the remaining melted dark chocolate into it. Cut off the bottom corner to make a piping bag and outline the leaves and fill in their lines. Place the plastic strips inside 4 glasses to give them a curved shape. Then place the glasses in the fridge to let the leaves harden.
Step 3/5
Mix the butter and remaining dark chocolate, add sugar and eggs, and stir until smooth. Add flour and baking powder and bake for 35 minutes at 350 °F.
Step 4/5
Whip the heavy cream with the powdered sugar, split the vanilla pod, scrape out the seeds, and add to the mixture, beating with an electric mixer. Next cut the cake into three even layers, spread a layer of whipped cream on the first tier, cover with the second tier, spread another layer of whipped cream, and cover with the last tier. Then cover the entire surface of the cake with the remaining whipped cream. Grate some dark chocolate shavings and stick them around the edge of the cake.
Step 5/5
Remove the leaves from the plastic sleeve strips and arrange them on the cake, alternating colors. Serve and enjoy!