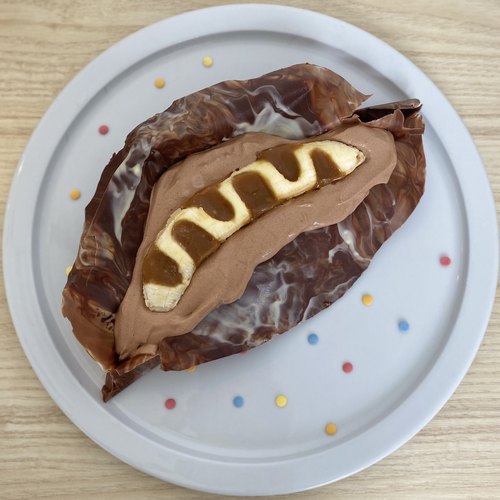 Banana Mousse au Chocolate
A delicious dessert with chocolate mousse and banana 🍫🍌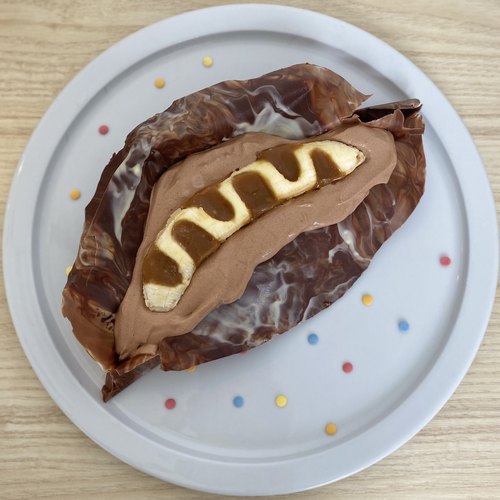 ---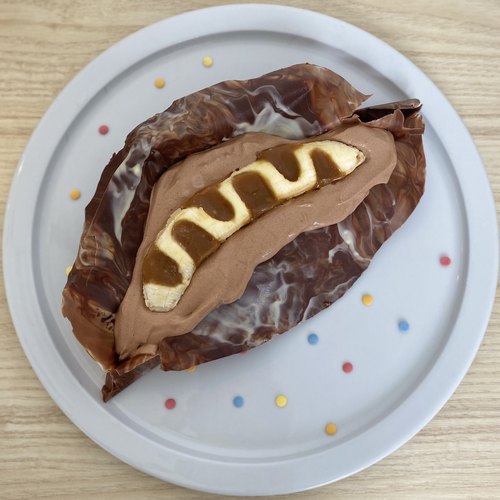 ---
Ingredients for 2 people
1/2 cup + 1/3 cup dark chocolate, divided
1/3 cup of white chocolate
1/3 cup of milk chocolate
3 bananas
1/2 cup of milk
3/4 cup of heavy cream
caramel sauce
---
Tools
Parchment paper
Hair dryer
Skewers
Clothes pins
---
Step 1/5
Melt the white chocolate, milk chocolate, and 1/3 cup dark chocolate. Take a teaspoon of dark chocolate and drizzle it onto parchment paper to form a disk. Repeat to make about 10 discs. Then cover with smaller circles of white and milk chocolate as seen in the video. Melt with a hair dryer to form a sheet of marbled chocolate.
Step 2/5
Place two bananas under the parchment paper, turning them inward to form 2 arcs. Pinch the top and bottom of the parchment paper with a clothespin. Place in a cool place for 30 minutes.
Step 3/5
Open a banana by cutting off the top part of the skin, leaving the rest of the skin on. Use a knife to cut out rounded pieces from the flesh, alternating sides. Remove the cut pieces with the skewer and set aside. Fill empty spaces in banana with caramel sauce and place in freezer for 1 hour.
Step 4/5
Bring the milk to a boil and pour it into the remaining dark chocolate. Whisk to incorporate well. Whip the cream until it is stiff, then fold a layer of whipped cream into the chocolate mixture with a spatula. Next pour the dark chocolate into the remaining whipped cream, incorporating gently.
Step 5/5
Remove the paper under the chocolate mold and place the hollowed-out banana pieces inside. Add the chocolate whipped cream in the center and the caramel banana without its skin. Cut in 2, serve, and enjoy!