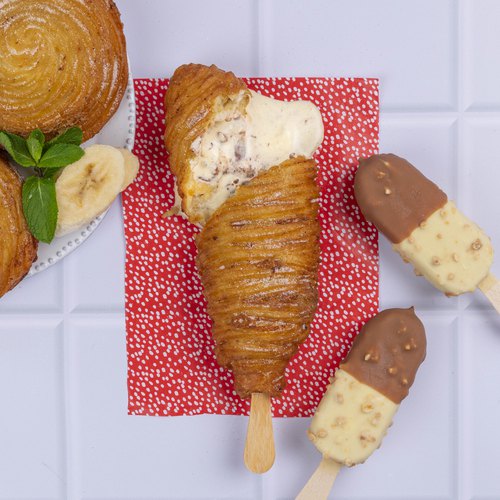 Banana Foster Churros
Banana Foster Churros! Indulge in the ultimate sweet treat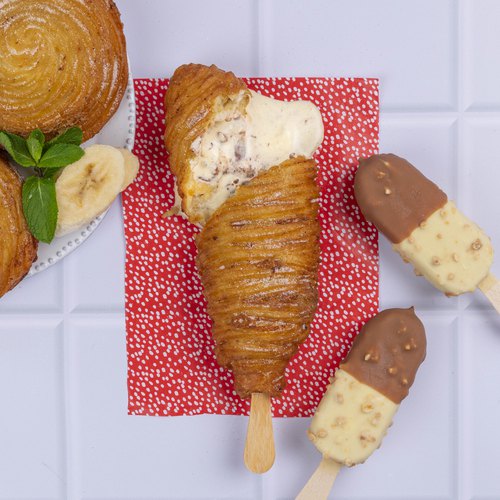 ---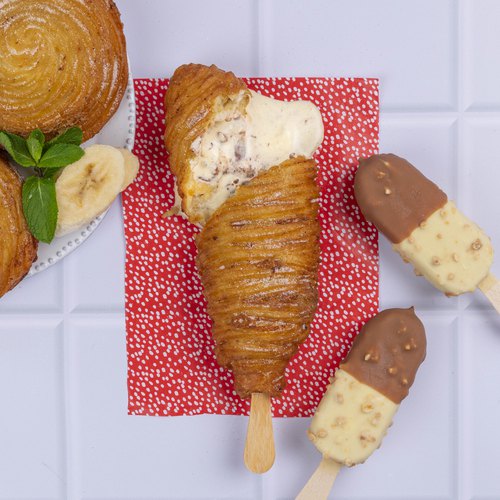 ---
Total time: 2 hours 30 minutes
Prep time: 20 minutes, Cook time: 10 minutes, Rest time: 2 hours
Ingredients for 4 people
Ice cream popsicles
Pecans
Oil
Bananas
Churro dough
Butter
Cinnamon sugar
Rum
Strawberries
Mint leaves
Whipped cream
---
Step 1/4
Take the ice cream popsicles and submerge them into melted chocolate, then cover them with crushed pecans and sliced bananas on top. Apply churro batter around the entire ice cream and freeze it until it solidifies.
Step 2/4
In a pan, combine cinnamon sugar and butter and heat them up until they form a caramel. Next, include pieces of banana in the mixture and flambé it with rum. Finally, take the pan off the heat and set it aside.
Step 3/4
Use a piping bag to shape churro dough into a circular disk on a baking sheet. Place the caramelized bananas on top of the dough and then cover it with another layer of churro dough. Freeze the mixture until it sets.
Step 4/4
Submerge the churro discs and churro ice creams into hot oil and fry them until they turn golden brown. After taking them out of the oil, sprinkle cinnamon sugar on top and add a dollop of whipped cream. Accompany the dish with strawberries and mint. Enjoy!