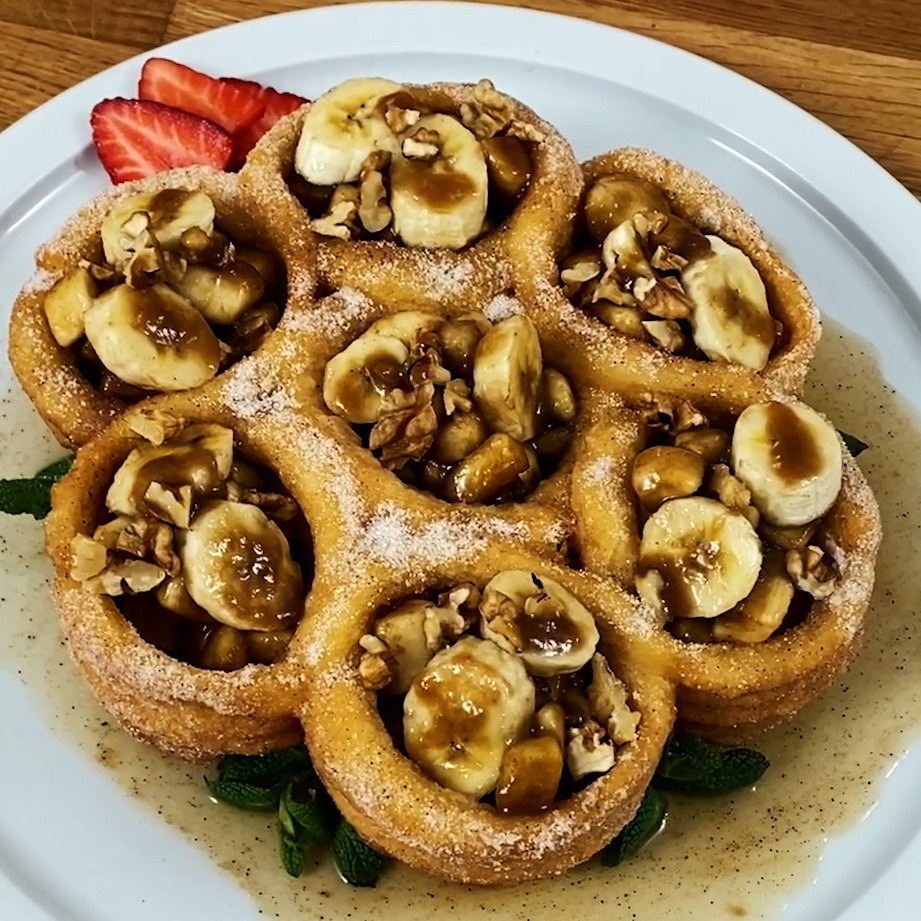 Bananas Foster Cups
You can't go wrong with bananas, churros, and ice cream 🔥🍌🍦
Made by you!
Ingredients
1 1/2 cups water
2 1/2 tbsp vegetable oil
2 tbsp sugar
1 1/4 tsp salt
2 cups flour
3 eggs
Cooking spray
4 bananas
2 tbsp butter
1/2 cup brown sugar
Vegetable oil for frying
Cinnamon sugar
Walnuts
1/2 cup rum
Vanilla ice cream
Strawberries
Mint leaves
Tools
Piping bag
Round muffin tray
Match
1. For the churros batter: In a large saucepan bring the water, vegetable oil, sugar, and salt to a soft boil. Then add in the flour and mix well. Remove from heat and stir in the eggs. Place the dough in a piping bag with the help of a cup.
2. Spray the bottom side of a round silicone muffin tray with cooking spray. Weave the churro dough around the circles until you've covered the entire surface of the muffin tray as seen in the video. Then place in the freezer for 1 hour.
3. Meanwhile cut the bananas into small chunks. In a frying pan melt the butter with the brown sugar. Add in the diced bananas and caramelize. Set aside.
4. Remove the churro batter from the freezer and separate it from the muffin tray. Fry in hot oil until golden brown in color. Then coat in cinnamon sugar and place on a serving plate. Place the caramelized bananas inside each churro cup and garnish with fresh banana slices and walnuts.
5. Add rum to a saucepan and very carefully light a match and add it to the pan, holding it far away from you. Immediately pour the flaming rum over the banana cups. Cut in portions and serve with a scoop of vanilla ice cream, strawberries, mint leaves, and a drizzle of caramel. Enjoy!
Similar recipes from Chefclub