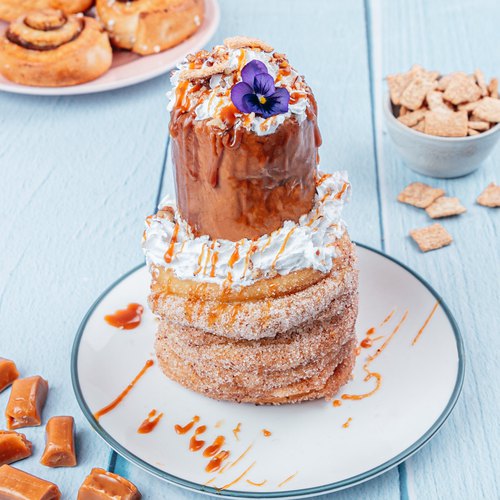 Cinnamon Roll Milkshake & Churros
Cinnamon Roll Milkshake & Churros! Get rolling and make this dessert 😉🥮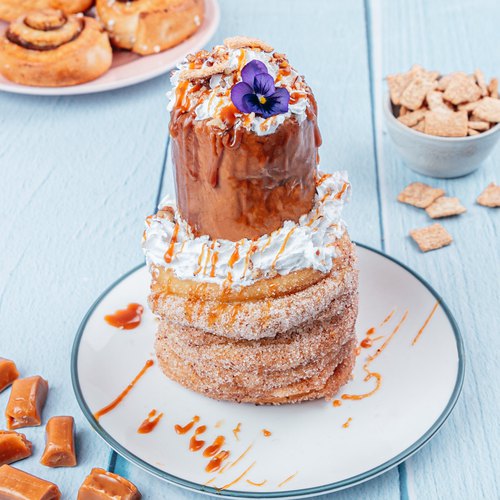 ---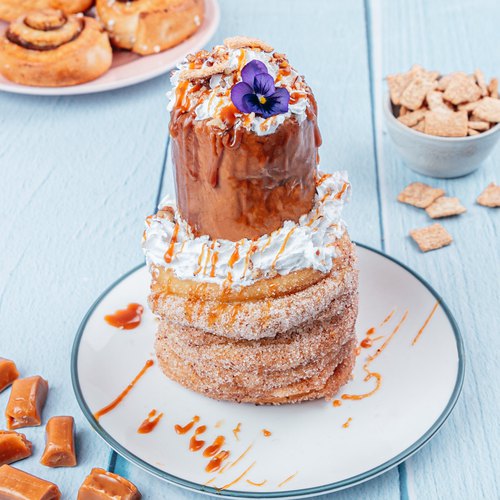 ---
Total time: 15 minutes
Prep time: 5 minutes, Cook time: 5 minutes, Rest time: 5 minutes
Ingredients for 3 people
1 bag of werther's original hard caramels
8 soft caramels
1/2 cup of butter
2 cups of water
1/4 cup of pecans
2 cups of flour
1/2 cup of brown sugar
1 tbsp of cinnamon
3 cinnamon rolls
2 1/2 cups of ice cream
5 egg
---
Tools
Stand mixer
Ziplock bag
parchment paper
---
Step 1/4
Add 1 tbsp of water and 1 tbsp of butter to a pan and heat up on low heat. Add one bag of Werther's hard candy into the pan along with 8 pieces of Werther's soft caramels. Allow to melt and had the crushed pecans. Place on parchment paper and roll out flat between 2 pieces of parchment paper. Remove from parchment paper and roll around 3 glasses. Set aside.
Step 2/4
Add the butter and water to a sauce pot. Bring to a boil and then lower the heat to medium-low. Add in the flour and stir using a wooden spoon. Continue to cook for 4 minutes. Place the dough into a stand mixer with the whisk attachment. Turn on medium speed. Add your eggs 1 at a time while the mixer is on. Set aside to cool for 1-2 minutes before putting into ziplock bag.
Step 3/4
Preheat oil to 350°F. Cut a corner of the ziplock bag. First add the dough in a large circle, form an X to connect the circle in the center. Make a smaller circle in the center and then with the rest of the dough, make a circular pattern. You can also do a zig-zag pattern on the outside and inside rings. Fry until golden brown on the bottom and then turn over to continue the cooking process. Take out of the hot oil and roll in cinnamon sugar mix to coat churro.
Step 4/4
Add 3 cinnamon buns and ice cream into blender and pulse until smooth. Pour milkshake in caramel glasses and serve with the churros and enjoy!