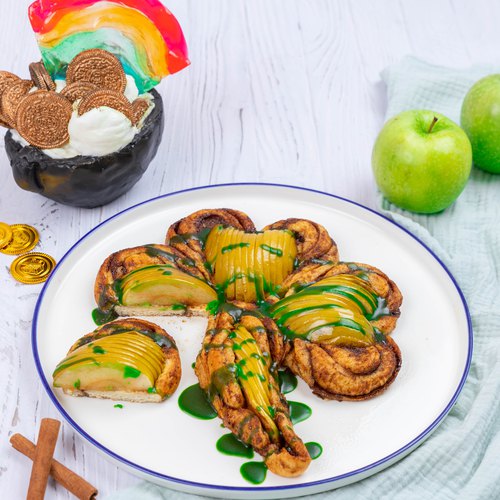 Shamrock Apple Tart
Shamrock Apple Tart! Irish you would try this treat 🍀🌈💰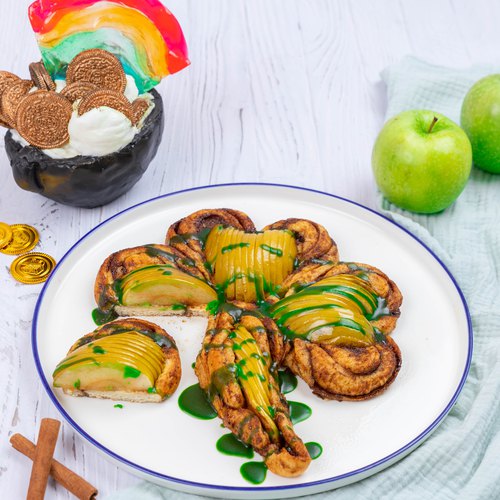 ---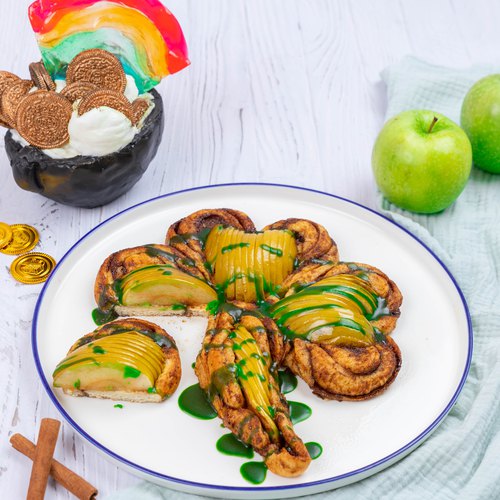 ---
Total time: 20 minutes
Cook time: 20 minutes
Ingredients for 4 people
1 pint of vanilla ice cream
1 pie dough
1 cup of black glaze
4 unbaked cinnamon rolls
2 green apples
Jolly ranchers
2 tbsp of edible gold glitter
7 oreos
1 cup of green glaze
2 cups of green sugar
---
Step 1/5
Put a small bowl face down on a parchment-lined baking sheet. Place the pie dough over the bowl, turn the bowl face up and add 2 small pieces of dough on the sides to create the leprechaun's pot of gold. Bake 20 minutes at 375°F. Once it has cooled place the pie crust face down and coat it with black glaze. Set aside.
Step 2/5
Unroll half of the cinnamon roll strips and re-roll them so that they are facing each other. Shape them into a shamrock and press down with a flat surface to stick them together. Cut the green apples into thin slices and slightly stagger the pieces before placing them on top of the cinnamon rolls. Bake at 375°F for 15-20 minutes.
Step 3/5
Unwrap the jolly ranchers and put them into a kettle of hot water to slightly melt. Remove from the hot water, carefully stretch and shape them into a rainbow. Allow to set.
Step 4/5
Mix the green sugar and gold glitter in a jar. Add the oreos to the jar and shake to coat the cookies.
Step 5/5
Place scoops of vanilly ice cream inside of the leprechaun's pot. Add the golden oreos and jolly rancher rainbow on top. Pour green glaze over the shamrock tart, serve and enjoy!