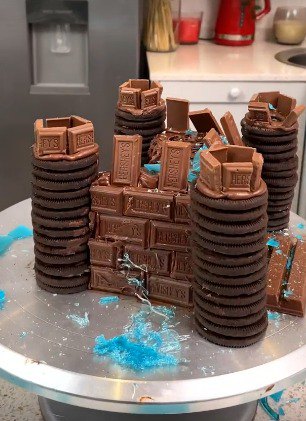 Chocolate Castle Cake
Chocolate Castle Cake! A regal and delicious dessert 🏰🍫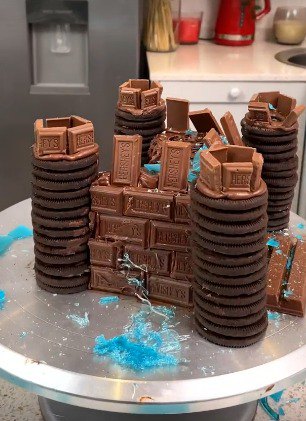 ---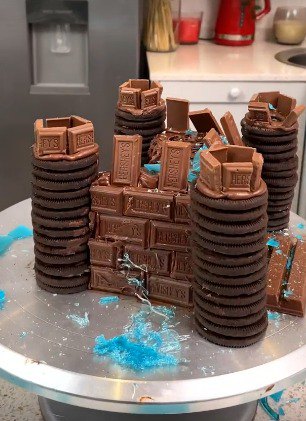 ---
Total time: 1 hour 35 minutes
Prep time: 10 minutes, Cook time: 40 minutes, Rest time: 45 minutes
Ingredients for 4 people
15 hershey's milk chocolate bars
1 kit kat®
1 package of oreos
2 containers of chocolate frosting
1 cake
Blue jolly ranchers
Chocolate sprinkles
---
Tools
Piping bag
Cling wrap
Offset spatula
---
Step 1/3
Put chocolate frosting in piping bag and cover cake. Use offset spatula to smooth everything. Save remaining icing in piping bag. Break about 12 Hershey bars into individual rectangle pieces. Take an extra 10 individual rectangles and cut in half, you will use these on top of the towers. Start layering Hershey bars on each side of the castle. Allow a space for the door. Line up about 32 Oreos to make the 4 towers of the castle. With the same piping bag, add a small dot of frosting in the center on all but 4 of the Oreos. The last 4 you will cover the tops, completely covered in frosting. Stack 7 Oreos and then place one of the completely frosted ones on top of the tower. Repeat the process for the other towers.
Step 2/3
Take the halves of Hershey pieces and make a ring around the top of the Oreo towers. Sprinkle with chocolate sprinkles, then take a Kit Kat bar and place in front of the castle for the drawbridge.
Step 3/3
In a small sauce pan place 10-15 unwrapped blue jolly ranchers and turn heat on low. Once the sugar is completely melted, carefully pour onto a parchment lined pan. Let this cool completely before handling (about 30-45 minutes) Break into shards and place on the castle. Serve and enjoy!