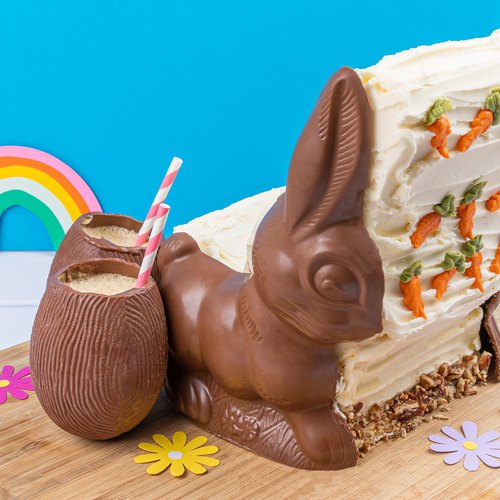 Easter Sundae & Carrot Cake
Easter Sundae & Carrot Cake! Hop into this festive treat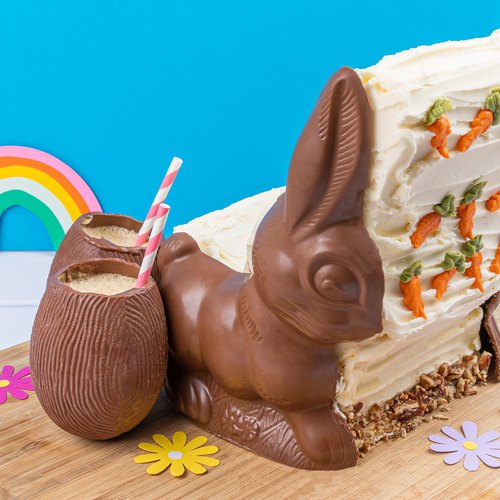 ---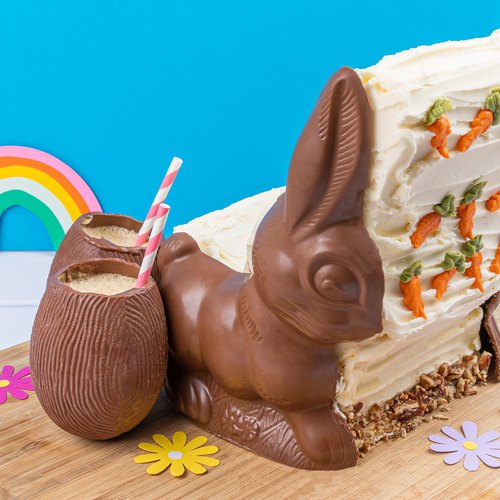 ---
Total time: 15 minutes
Prep time: 15 minutes
Ingredients for 6 people
Carrot cake
Bailey's
Pecans
Buttercream frosting
Chocolate eggs
Guinness
Chocolate bunny
Orange food coloring
Green food coloring
Vanilla ice cream
---
Tools
Skewers
---
Step 1/4
Heat up your knife and carefully cut the chocolate bunny in half, lengthwise. Place the chocolate shells on top of layered carrot cake and cut around the outline. Assemble the two pieces of cake with buttercream and secure with skewers.
Step 2/4
Set the cake standing up and coat it entirely with buttercream. Sprinkle the base with crushed pecans. Pipe carrots on the front of the cake using orange and green buttercream. Place the chocolate bunny shells on the side of the cake and set aside.
Step 3/4
Place the chocolate eggs in a glass and cut off the top. In a blender, mix the beer, vanilla ice cream and Irish cream. Pour the mixture into the chocolate eggs.
Step 4/4
Cut the beer can open, remove the widget and wrap in cling wrap. Dip the widget halfway in yellow chocolate. Allow to set, unwrap and place in the shake to resemble an egg. Place straws in the shakes, serve with the cake and enjoy!