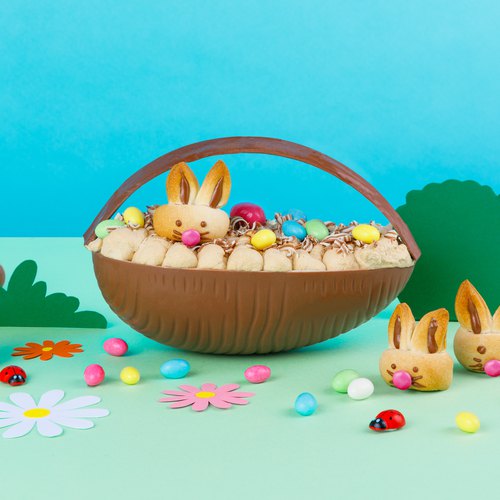 Easter Basket Tiramisu
Easter Basket Tiramisu! It's a fun & festive twist on a classic dessert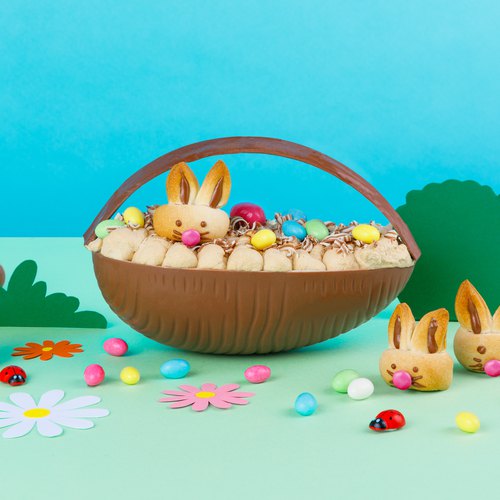 ---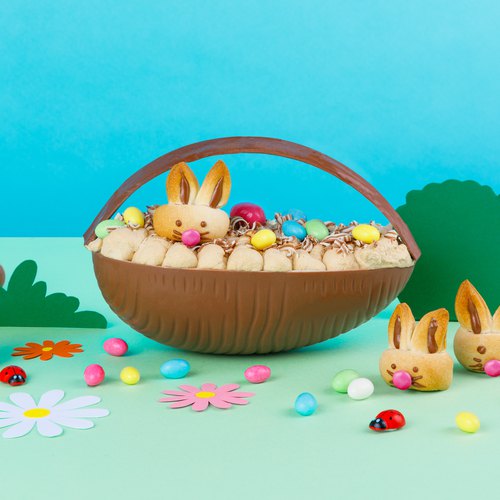 ---
Total time: 1 hour 15 minutes
Prep time: 40 minutes, Cook time: 15 minutes, Rest time: 20 minutes
Ingredients for 4 people
1 giant chocolate egg
2 shortcrust pastry
3 1/2 oz of bar milk chocolate
1 bag of jordan almonds
3 tbsp of powdered sugar
5 oz of mascarpone
1 cup of heavy cream
2 tbsp of coffee
1 package of speculoos cookies
1 chocolate egg
---
Tools
Toothpicks
Piping bag
Plastic sheet protector
parchment paper
---
Step 1/3
Begin by melting half of the giant chocolate egg. Then, take a strip of plastic sheet protector and dip one side of it into the melted chocolate. Next, place an upside-down bowl on a plate and place the chocolate-covered plastic strip on top of the bowl. Allow the strip to cool for approximately 20 minutes. Prepare the shortcrust pastry by cutting it into small circles. Fold the ends of each circle to form a triangle and cut a line starting from the tip of the triangle (without cutting all the way through) to create ears. Fold the sides of the triangle inward and use a toothpick to create two small dots for the eyes. Repeat this process to create a total of 6 bunnies. Place the bunnies on a baking sheet lined with parchment paper and bake them for 15 minutes at 350°F.
Step 2/3
Form a cone shape with parchment paper. Melt the milk chocolate, place it inside the parchment paper cone, and create the eyes, whiskers, and inside of the ears of the rabbits. Place a jordan almond to form the nose and set aside. Whip the powdered sugar, mascarpone, heavy cream, and coffee using an electric mixer. Place it into a piping bag and set it aside.
Step 3/3
Crush the Speculoos cookies to obtain a powder. Place the other half of the giant chocolate egg in a plate, sprinkle the Speculoos powder into the giant chocolate egg half, and pipe a layer of coffee whipped cream. Alternate layers of Speculoos and coffee whipped cream, finishing with a layer of whipped cream. Grate the other half of the chocolate egg to obtain chocolate shavings and sprinkle them over the whipped cream. Remove the chocolate from the plastic strip and place it to form a chocolate handle. Add the rabbit-shaped pastry, the remaining jordan almonds, and enjoy!