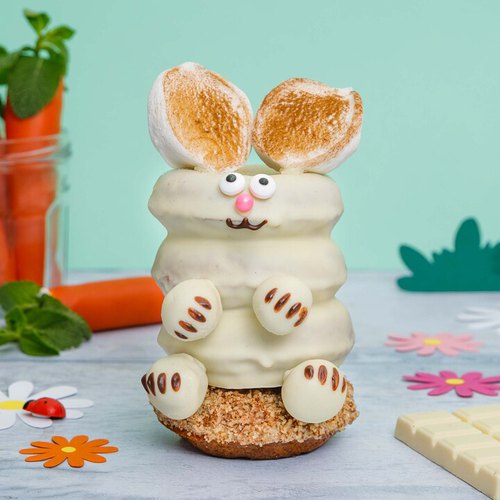 Easter Bunny Donuts
Easter Bunny Donuts! Try this earresistible take on carrot cake 🐰🥕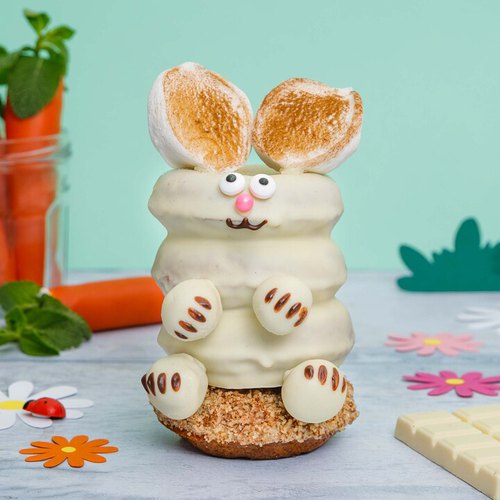 ---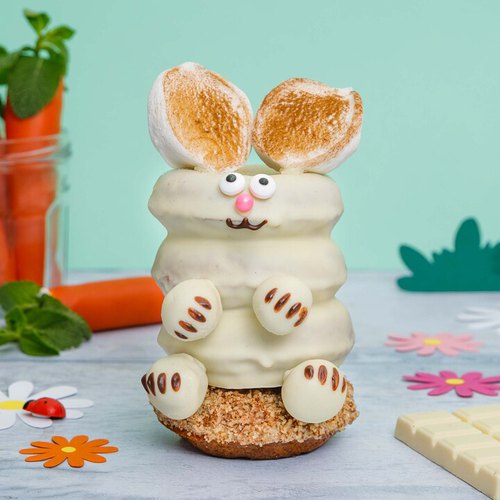 ---
Total time: 1 hour
Prep time: 15 minutes, Cook time: 15 minutes, Rest time: 30 minutes
Ingredients for 3 people
2 1/4 cups of flour
2 tsp of baking powder
1 1/2 tsp of salt
3 tsp of cinnamon
1/2 tsp of nutmeg
3/4 tsp of ginger
0.3 cup of milk
1 cup of vegetable oil
1/2 cup of brown sugar
1/4 cup of sugar
3 egg
2 tsp of vanilla extract
8 carrots
3 cups of white chocolate
Chopped pecans
Orange food coloring
Mint
1 tbsp of chocolate chips
6 sprinkle eyes
3 pink sprinkles
---
Tools
Doughnut pan
Whisk
Cooking spray
Melon baller
Toothpicks
---
Step 1/4
Preheat the oven to 350°F. Spray a doughnut pan with non-stick spray. In a large bowl, whisk together the dry ingredients. In another bowl, whisk together the wet ingredients, along with the sugars. Pour the wet ingredients into the dry ingredients, stir to combine and fold in 2 grated carrots. Fill the doughnut pans 2/3 full and bake for 15 minutes. Once baked, turn out onto a cooling rack to cool completely. Continue making the doughnuts with the remaining cake batter.
Step 2/4
Dip one doughnut into the white chocolate and then press into the chopped pecans. Continue with two more doughnuts. Set these doughnuts aside. Dip the doughnuts by 3 into the white chocolate or pour the white chocolate over the doughnut stacks. Once the chocolate has set, place the doughnut stacks one on top of each pecan doughnut.
Step 3/4
Dip the end of a dry, clean unpeeled carrot into the melted orange chocolate. Turn the carrot upside down and place into a small cup to hold it up without touching the chocolate. Chill until the chocolate sets. Carefully pull the chocolate carrot off of the carrot. Fill with the whipped cream and top with a sprig of fresh mint.
Step 4/4
Mix the extra doughnuts with the cream cheese to obtain a cake pop. Use the melon baller to measure out small portions of dough. Roll into 15 little balls. Place the balls in the freezer. Place a toothpick into each cake pop, dip into the extra white chocolate to coat completely. Using white chocolate, attach the cake pops to the doughnuts for the bunny paws and one on the back for a tail. Add the candy sprinkle eyes and nose. Dip a fork into the melted semisweet chocolate and decorate the bunny paws. Use a toothpick to trace a chocolate mouth onto each bunny. Decorate a plate with the green parts from the carrots, place the doughnut bunnies on top and arrange the chocolate carrots around. Perfect for your Easter table decor!