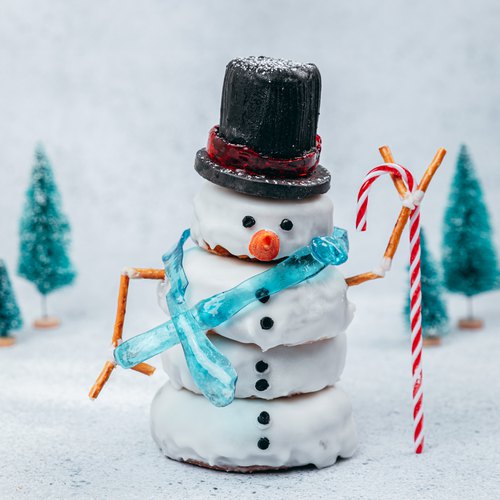 Frosty The Snowman Donuts
Frosty The Snowman Donuts! You snow you want this treat 😉🍩☃️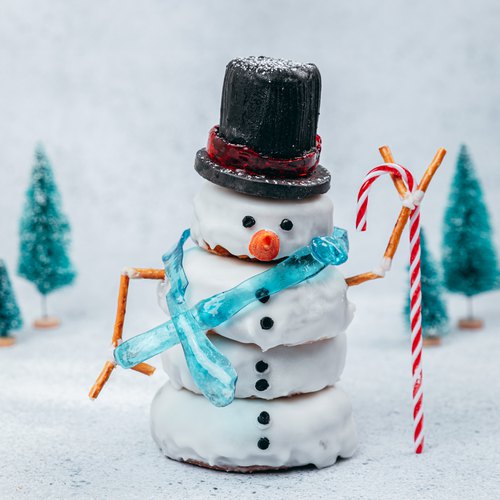 ---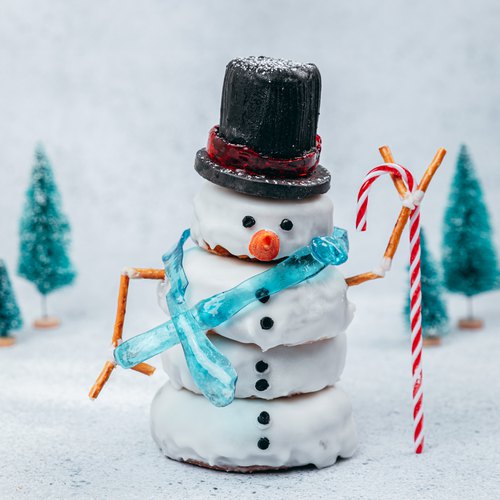 ---
Total time: 45 minutes
Prep time: 40 minutes, Cook time: 5 minutes
Ingredients for 2 people
4 oz of butter
5 oz of sugar
2 egg
2 tsp of vanilla extract
1 4/5 cups of flour
2 tsp of baking powder
1 tsp of baking soda
1/2 tsp of nutmeg
1/2 tsp of salt
3/4 cup of buttermilk
2 cups of oil
33 oz of white chocolate
37 oz of dark chocolate
4 oz of orange candy melts
1 big marshmallows
10 blue jolly ranchers
5 pretzel sticks
1 licorice
1 oz of whipped cream
---
Tools
Rolling pin or metal rod
Circular cookie cutter
---
Step 1/5
In a mixing bowl with a paddle attachment, cream the butter and sugar together. Add eggs one at a time and the vanilla. Alternate adding dry ingredients and buttermilk to the bowl. Flour work surface and roll out dough to 1/2 inch thickness. Cut out 6 circles with cookie cutters. Fry in hot oil until golden brown. Set aside.
Step 2/5
Melt white chocolate in microwave for thirty second intervals until melted. Pour over cooled donuts on wire rack. Allow to set. Stack donuts on top of each other; largest at the bottom and smallest at the top. Pour melted white chocolate over the top, make sure to coat everything.
Step 3/5
Melted dark chocolate in microwave. Pour into plastic cup, coating all the sides. Place in fridge to completely set. Repeat process for a second layer. Place in freezer to set completely. Use a knife to carefully cut away the plastic cup. Roll acetate into a cylinder and tape shut. Pour melted dark chocolate down the tube to the top. Allow to set completely in the freezer. Take off acetate paper. Cut cylinder in half at a diagonal angle using a hot knife. While the cut is still melted, place together to form a 90 degree angle. Let cool completely in the freezer. Warm up one end of the cylinder and attach to chocolate cup.
Step 4/5
Melt orange candy melts in microwave. Dip ice cream cone in orange candy melts and let cool completely. Remove from ice cream cone and set aside. Take a big marshmallow and place in the middle of a circle cutter. Pour melted dark chocolate over marshmallow to cover it and fill the ring up. Remove the circle cutter and set aside. Place 10 jolly ranchers in a bowl. Pour hot water over and let sit for 30 seconds. Carefully pull out a jolly rancher and stretch. Pull out another jolly rancher and attach it to the first. Then stretch. Repeat until desired scarf length. Break pretzel sticks in half. Use melted chocolate to stick them together to create arms.
Step 5/5
Use melted chocolate and black liquorice to make eyes, mouth and buttons for the snowman. Carefully place jolly rancher scarf around snowman's neck. Place orange nose on snowman's face. Place chocolate covered marshmallow on top of snowman's head. Place pretzel arms on snowman. Fill chocolate cup with drink of your choice. Top with whipped cream, serve and enjoy!