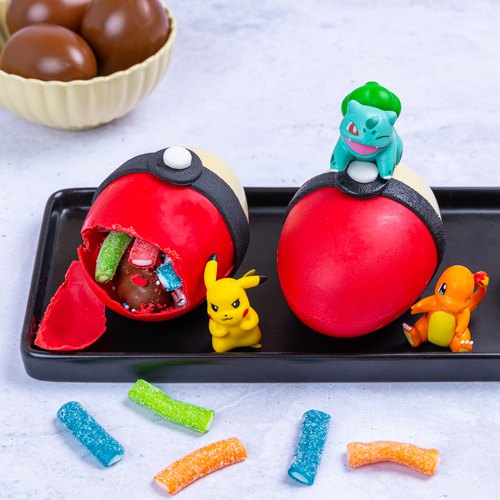 Easter Pokeball Surprise
Easter Pokeball Surprise! Who says Easter baskets can't include Pokeballs?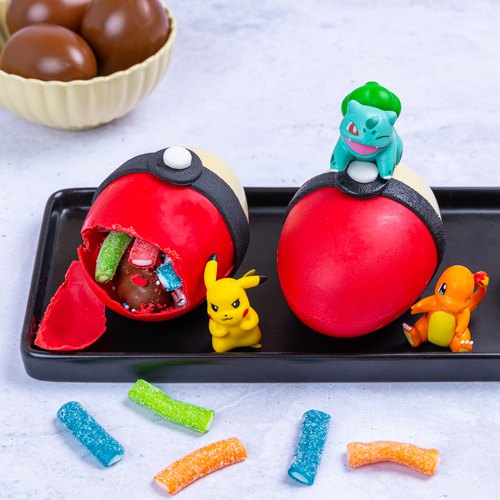 ---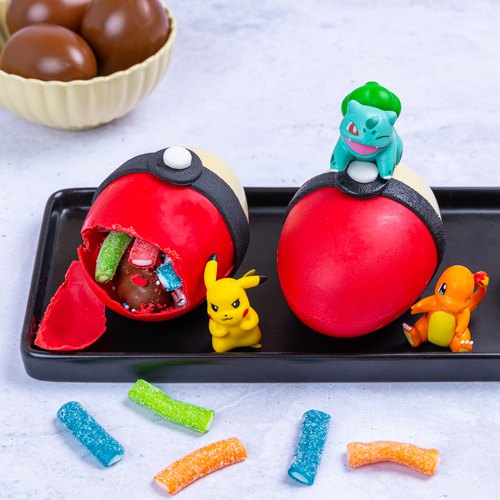 ---
Total time: 20 minutes
Prep time: 20 minutes
Ingredients for 4 people
4 cups of cornstarch
2 egg
1.1 cups of sugar
9 gelatin sheets
1 tbsp of honey
3 1/2 oz of milk chocolate
7 oz of white chocolate
1 chocolate egg
Red food coloring
Candies
Black fondant
White fondant
---
Tools
Pokemon toys
Piping bag
Metal rack
Pastry brush
---
Step 1/4
Begin by putting cornstarch in a rectangular dish and use it to create a mold. Next, separate the egg whites from the yolks and beat the egg whites until they form stiff peaks. In a pot, bring 0.4 cups of water, sugar, and honey to a boil until the syrup reaches a temperature of 250°F. Add the gelatin sheets to the syrup and stir well. Pour the syrup mixture into the beaten egg whites and continue to mix until foamy. Transfer the marshmallow mixture into a piping bag and pipe it into the molds. Allow the marshmallow to set at room temperature.
Step 2/4
Cover the marshmallow with cornstarch to prevent sticking and gently remove it from the mold. Place the marshmallow on a wire rack and remove any excess cornstarch with a brush. Melt the milk chocolate, pour it over the entire marshmallow, and let it set.
Step 3/4
Melt the white chocolate, divide it in two portions and color one portion red. Cut the chocolate egg in half, place it on a wire rack, and pour white chocolate over the bottom half and red chocolate over the top half. Leave to set.
Step 4/4
Melt the edges of the chocolate egg on the bottom of a hot pot, then fill the chocolate egg with candy. Close the chocolate egg and place it on a stand. Add a black fondant belt in the center of the egg. Place a black fondant circle then a white fondant circle in the center of the belt. Serve and enjoy!