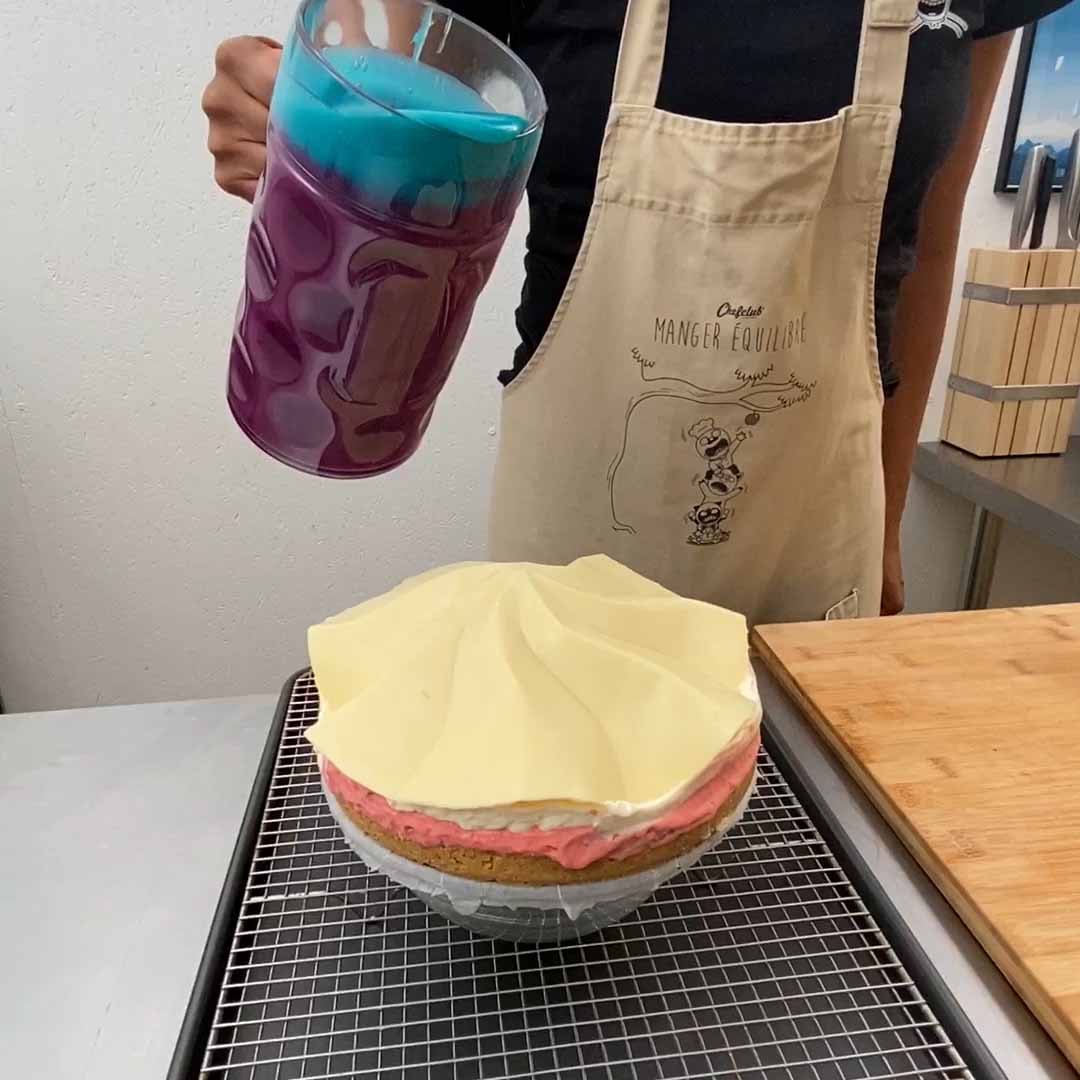 Raspberry No-bake Cheesecake
A white chocolate fantasy with a dazzling finish!
Total time: 45 minutes
Ingredients for 6 people
Graham cracker crust
1 piece of photo paper
3 cups tempered white chocolate
1 3/4 cups heavy whipping cream
28 oz cream cheese
1 1/4 cups sugar
2 tsp lemon juice
2 tsp vanilla extract
1/2 cup raspberry jam
White chocolate
1 tbsp powdered sugar
Water
1/2 can sweetened condensed milk
2 3/4 white chocolate
Blue food coloring
Purple food coloring
8 gelatin sheets
---
Tools
Jug
Strainer
---
Step 1/5
Fold a piece of photo paper to create the chocolate mold. Temper 3 cups of white chocolate and pour into the mold. Chill until set. Repeat once more. Set aside. Remove the white chocolate from the paper mold.
Step 2/5
Whip the 1 1/4 cups of heavy cream to stiff peaks. Chill. Beat 24 oz of cream cheese, and 1/2 cup of sugar until smooth. Add the lemon juice and 1 tsp of vanilla. Fold in whipped cream. Separate the filling into two parts and add half the raspberry jam to half the cheesecake batter. Put the raspberry layer first on top of a graham cracker crust, followed by the plain cheesecake. Chill until set.
Step 3/5
Make a mouse by whipping 1/2 cup of heavy cream until stiff. Chill. Melt 1/2 cup of white chocolate and set aside. Whip the remaining cream cheese, powdered sugar, salt, and 1 tsp of vanilla. Add the melted chocolate and fold in the cream. Fold in the remaining raspberry jam. Chill until set.
Step 4/5
Bloom gelatin, by placing the gelatin sheets into water. Boil 1/2 of water, condensed milk, and the remaining sugar. Pour over the 2 1/4 cups white chocolate and whisk until the chocolate is melted. Divide into half then add blue food coloring to one half and purple food coloring to the second half. Whisk until well mixed.
Step 5/5
Unmold the cheesecake. Fill the white chocolate mold with whipped cream. Place the chocolate dome on top of the cheesecake. Place a strainer over a large jug. Pour in the purple glaze followed by the blue glaze. Pour the glaze over the cheesecake. Enjoy!