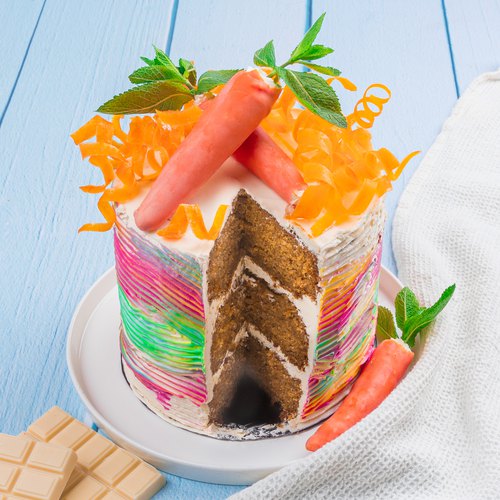 Pastel Carrot Cake
Pastel Carrot Cake! This dessert is a true work of art 🎂🥕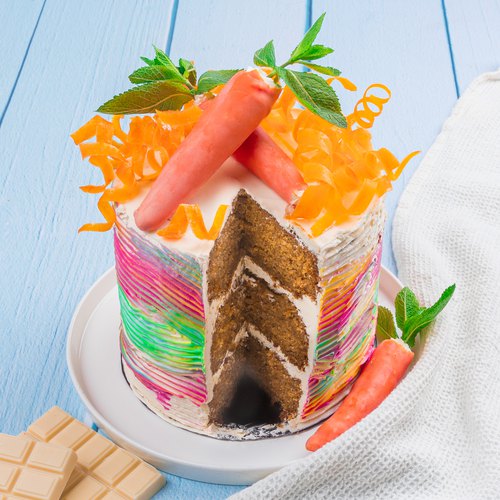 ---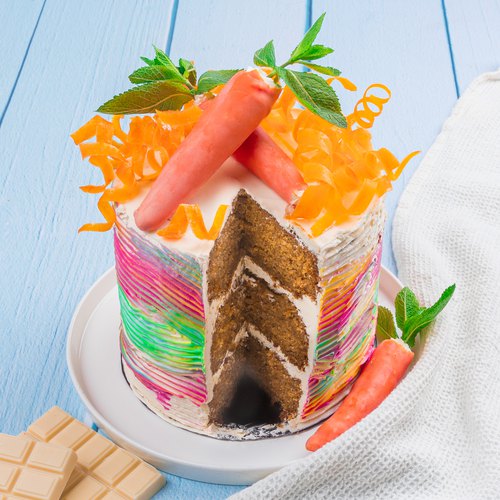 ---
Total time: 3 hours
Cook time: 3 hours
Ingredients for 10 people
3 carrot cake layers
Blue food coloring
Yellow food coloring
Pink food coloring
3 carrots
1 cup of orange colored white chocolate
Ice
Water
1 1/4 cups of sugar
1/2 cup of cream cheese
1/2 cup of heavy cream
2 tbsp of powdered sugar
3 sprigs of mint
5 cups of buttercream frosting
---
Tools
Piping bag
Comb
Non-stick baking mat
Vegetable peeler
---
Step 1/3
Stack the layers piping frosting in between each layer. Cover the outside of the cake with frosting and smooth it with the spatula. Take 3/4 cup frosting and divide it between 3 bowls. Mix with food coloring to obtain 3 different colors. Use a spatula to apply spots of color all over the cake. Starting at the bottom of the cake, run the comb around the cake and then in up and down wave motions to create a wavy colorful design.
Step 2/3
In a large bowl stir together the ice and the water. Dip 3 carrots into the orange colored white chocolate and place them immediately into the ice water. Whip together the cream cheese, heavy cream and powdered sugar. Remove the chocolate from the carrot. Fill with cheesecake whipped cream. Top with a mint sprig.
Step 3/3
Preheat the oven to 212°F. Use a vegetable peeler to create thin pieces of carrot. In a saucepan bring to a boil 1 cup of sugar and water. Add the carrot pieces and simmer for 10 minutes. Spread the carrot pieces out evenly on the silicon baking mat on a baking sheet. Place in the oven and bake for about 25 mintues. Remove from the oven and quickly wrap around the handle of a wooden spoon to create a curl. Continue with the rest of the carrot pieces. Sprinkle the curls with sugar. Top the cake with the carrot curls like a nest. Place the chocolate carrots on the carrot curls. Serve and enjoy!