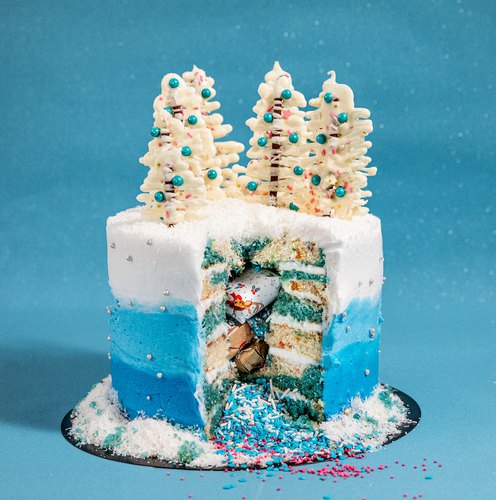 Winter Wonderland Cake
No real snow needed! ❄️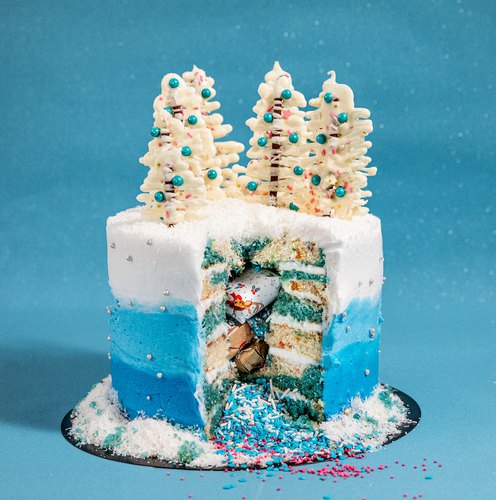 Welcome the winter wonderland, where sugar plum fairies and dancing and presents are always under the tree. This year, switch up Christmas Eve and make this cake for dinner, everyone will be thrilled when they see what Santa has hidden inside.
---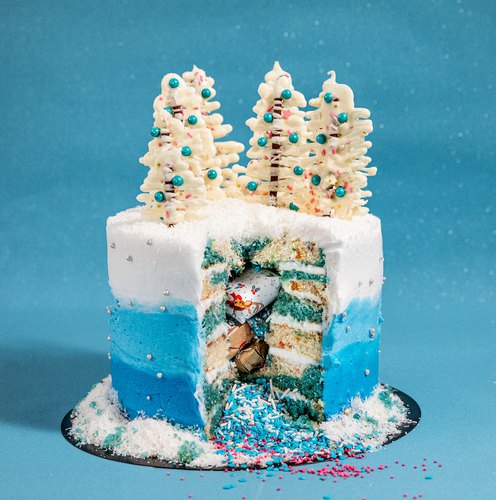 ---
Ingredients for 8 people
white chocolate
pocky
2 boxes of funfetti cake mix
2 cups of water
6 eggs
1 cup of vegetable oil
blue food coloring
cream cheese frosting
sprinkles
shredded coconut
---
Tools
Ziploc bag
Wrapped presents
Parchment paper
8-inch cake tins
---
Step 1/4
On a parchment-lined baking sheet place Pocky sticks. Melt the white chocolate and put in a ziplock bag, close and let cool just a little so the chocolate starts to thicken. Cut off the corner of the bag and then drizzle chocolate on the Pocky in a tree shape. Add sprinkles and then set aside to harden while you prepare the cake. These can be made ahead.
Step 2/4
Make 2 boxes of funfetti boxed cake mix, following the direction on the box (we used Betty Crocker, and have given the amount based on that, but any brand will do. Leave one box of cake mix plan and add blue food coloring to the other prepared cake. In greased, parchment-lined 8-inch cake tins start by pouring white batter in 3 of the pans and blue batter in the other 3, then repeat until you have 3-4 circles of each color in your pans. Bake for 25 minutes at 350 °F or until a toothpick comes out clean when stuck in the center.
Step 3/4
Use your favorite cream cheese frosting recipe, make at least 6 cups. Then separate into 3 bowls. Leave one bowl white (it should have the most frosting, 3 cups), make one bowl light blue (1 1/2 cups), and the last bowl dark blue (1 1/2). Using the white frosting, attach your bottom layer of cooled cake to your plate then stack. Cover your first layer entirely with white frosting, then place a second layer on top. Frost the outside of the second layer and place a thrid cake on top. Cut out the center of your 3rd, 4th, and 5th cakes. Frosting in between each layer. Fill the center with wrapped gifts then cover with about 1 cup of sprinkles. Frost around the edge then place the final cake layer on top of the cake. Cover the cake in a thin layer of white frosting and cool until hard (this is called the crumb coat).
Step 4/4
Using piping bags, cover the bottom third of the cake in dark blue frosting, the middle third in light blue, and the top third in white. Remove excess frosting with a spatula smoothing the frosting as you go. Place your Pocky trees in the top of the cake, and then cover with shredded coconut to make it look like snow. Cut slices, serve, and enjoy! And don't forget to unwrap the presents inside!