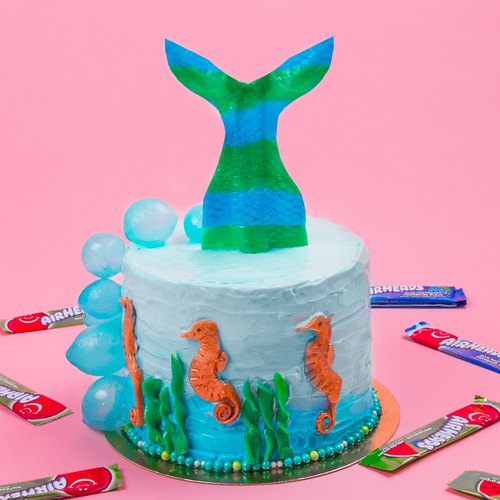 Under The Sea Cake
Under The Sea Cake! Made with yummy airhead candy 😀🧜‍♀️🎂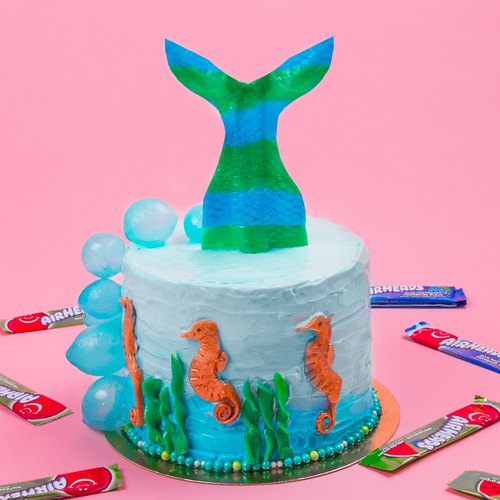 ---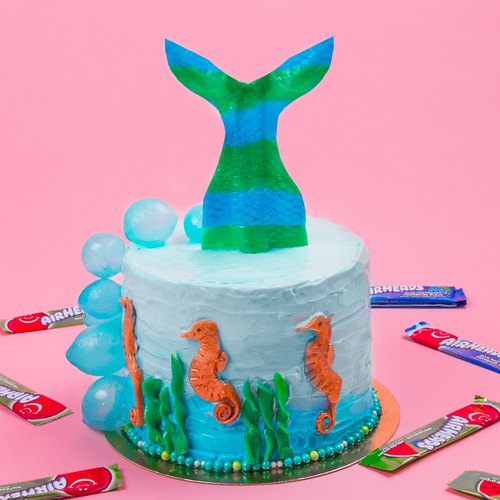 ---
Total time: 50 minutes
Prep time: 15 minutes, Cook time: 25 minutes, Rest time: 10 minutes
Ingredients for 6 people
10 blue airheads
10 green airheads
10 white airheads
6 egg
2 3/4 cups of water
1 cup of vegetable oil
2 containers of vanilla frosting
Blue food coloring
Edible gold glitter
1 cup of sugar
0.3 cup of corn syrup
Sprinkles
Non-stick cooking spray
2 boxes of vanilla cake mix
---
Tools
Toothpicks
Balloons
Piping bag
Skewers
---
Step 1/4
Spray 4, 8'' cake pans with non-stick spray. In a large bowl add eggs, 2 1/2 cups of water, vegetable oil and 2 boxes of vanilla cake mix. Whisk until smooth. Divide batter evenly into 4 cake pans and bake at 350°F for 20-25 minutes. Fill a piping bag with the vanilla frosting and assemble the cake by putting a thin layer of frosting between each layer. Coat the entire cake and place 10 minutes in the fridge. Prepare 3 separate bowls of vanilla icing dyed blue. You will need a dark, medium and light blue. Remove cake from the fridge and frost the cake creating a gradient ombre effect.
Step 2/4
Blow the balloons (not to big). Attach to skewers. In a pot heat ¼ cup water, sugar, corn syrup and blue food coloring. Allow to boil and reach 300°F. Allow to cool to 250°F. Dip balloons in the hot sugar syrup. Once cooled, pop the balloons and set aside.
Step 3/4
With a parchment lined sheet pan, line up 6 green and blue airheads, alternating between colors. Using a hair dryer, fuse together. Press a cooling rack into the airheads to create scales. Remove cooling rack and allow the airheads to cool. Cut out a mermaid tail shape (about 6-8 inches long). Use the white airheads to sculpt 3 seahorses. Brush with edible gold glitter.
Step 4/4
Add the sprinkles to the cake. Take small strips of green airheads, twist and stick in groups of 3 at the base of the cake. This is the seaweed. Add the seahorses and sugar bubbles. Stick the mermaid tail in the center (top) of the cake. Serve and enjoy!