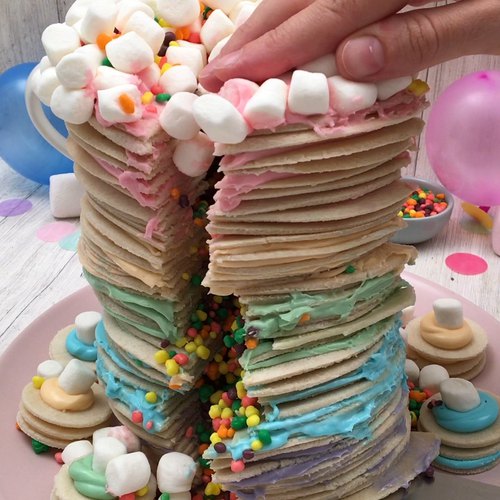 Wonder Cake
It's the easiest layer cake you'll ever make. 🎂🌈💗🤫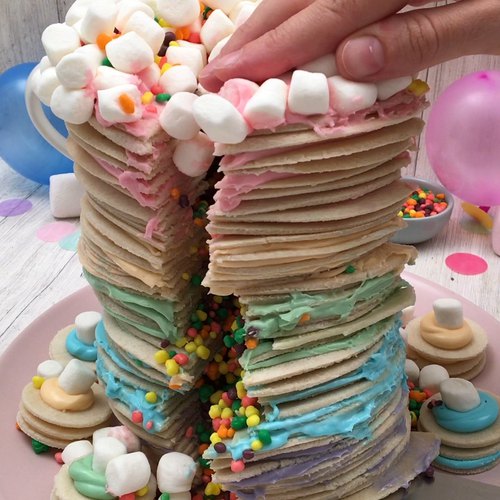 ---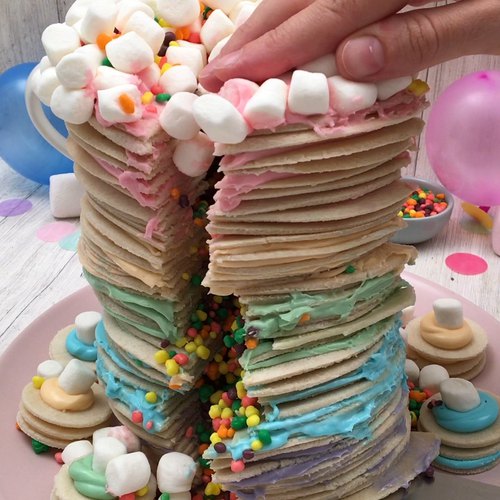 ---
Ingredients for 6 people
2 loaves sliced sandwich bread
8 oz of cream cheese
2 cups of whipped cream
1 cup of sugar
food coloring (pink, yellow, green, blue, purple)
piping bags
---
Step 1/3
Flatten all the bread, using a bowl, cut out rounds, then using a glass cut out the center of all but 8 pieces of bread. In a large mixing bowl, whip heavy whipping cream until stiff peaks form then add whipped cream cheese and sugar. Divide into 5 bowls, adding enough food coloring to create pastel colors to each. Place each coloring in a piping bag.
Step 2/3
Place one round of bread without center cut-out on plate, ice with purple frosting, repeat 3 times then start using bread with a whole in the center. Each color should use about 6 slices of bread (depending on the size of the bread loaves you use this may be less or more). Once you are using the bread with the center missing, just frost a circle around the edge. Build up the tower until only the 4 remaining pieces without the center cut out are left. Fill the center hole with rainbow nerds and the cover the whole with the remaining 4 pieces of bread - frosting in between each layer with pink.
Step 3/3
On top of the final slice of bread, frost with pink frosting then adorn with marshmallows. Use remaining bread from holes to create mini cakes with any leftover frosting. Cut into the cake and serve.