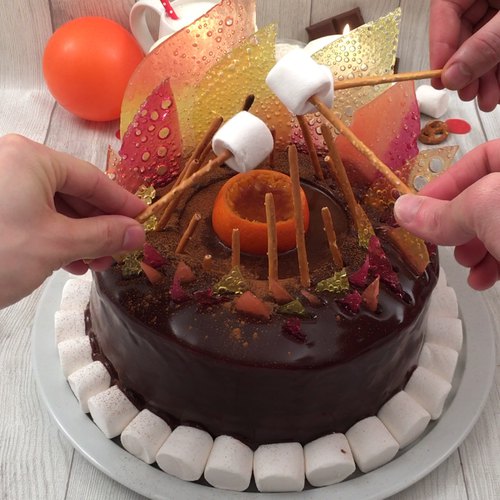 Camping Cake
Bring the great outdoors inside with this bonfire cake, complete with roasted s'mores! ❤️🏕🔥🎂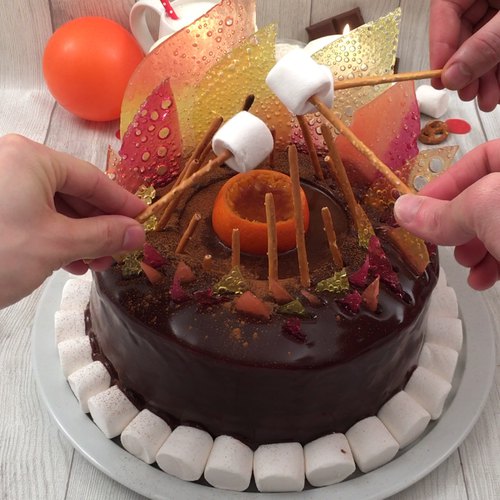 ---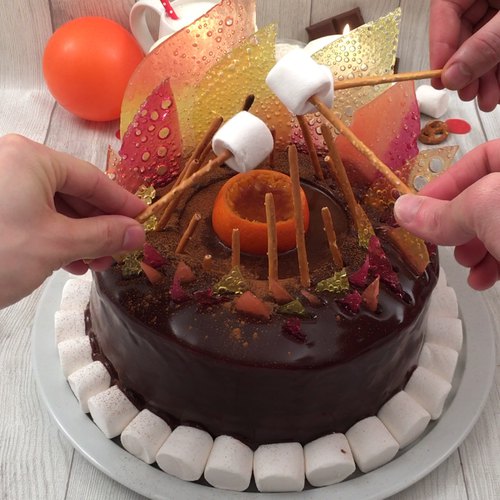 ---
Ingredients for 10 people
1 box of chocolate cake mix
2 1/2 cups of whipping cream
1 1/2 cups of milk chocolate
3 cups of dark chocolate
1 bag of marshmallows
4 oz of bailey's ®
8 oz of hot chocolate
1 small orange, peeled just on top
20 pretzel sticks
70 hard candies, in red, orange, yellow, & purple
2 oz of rum, 100 proof or higher
---
Tools
Small bowl
---
Step 1/3
Prepare 2 chocolate cakes according to package instructions. Whip the whipping cream until stiff and fold in the melted milk chocolate. Ice the top of one of the cakes with the whipped cream and stack the second cake on top. Cut a hole in the top cake the diameter of the bowl, ice the entire cake, and place in the fridge to chill.
Step 2/3
Meanwhile, coat the inside of the bowl with 1/2 cup melted dark chocolate and refrigerate till hardened. Remove the cake and bowl from the fridge, demold the chocolate and place it in the hole in the top of the cake. Cover the chocolate bowl with the small bowl, pour the remaining melted dark chocolate over the rest of the cake, and line the bottom of the cake with marshmallows. Place back in the fridge to chill.
Step 3/3
Remove the cake from the fridge, fill the chocolate bowl with Bailey's ® and hot chocolate, place the orange in the hot chocolate, and stick pretzel sticks into the cake, around the chocolate bowl. Arrange the candies in rows on a baking tray lined with parchment paper and bake for 5 min at 350 °F. Once cooled, break the melted candy into flame shaped shards and arrange them in the top of the cake to make a campfire. When ready to serve, pour the rum over the orange and light on fire. Roast marshmallows skewered on pretzel sticks over the flame, slice the cake, and enjoy!