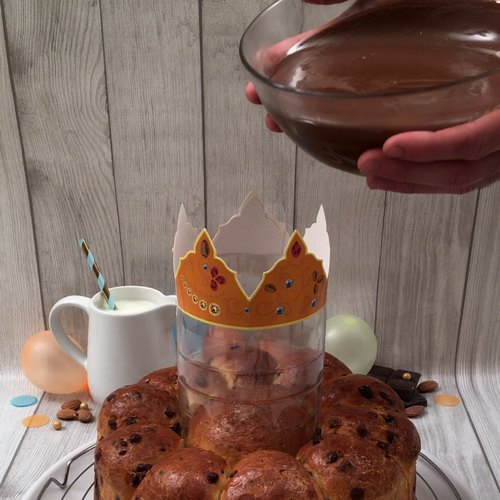 Chocolate Chip Brioche
The actual best thing since sliced bread. 🍞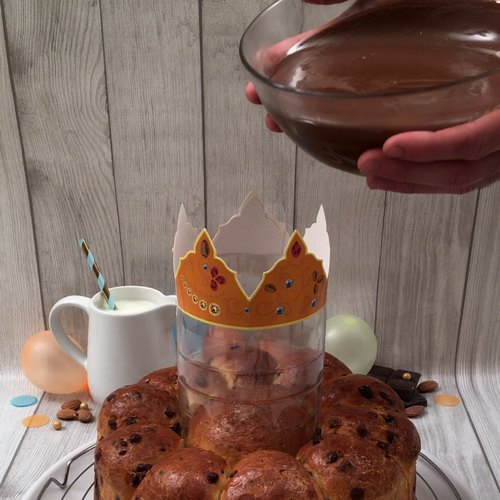 ---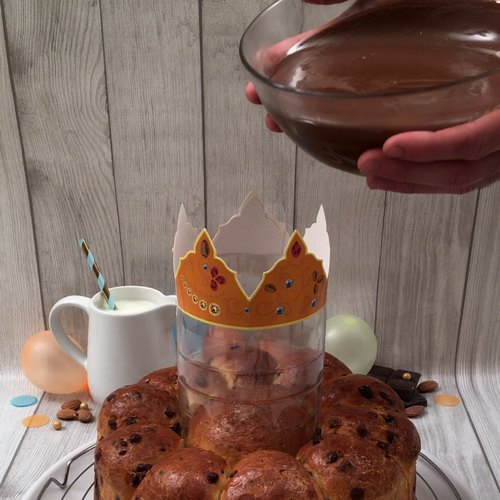 ---
Ingredients for 8 people
4 1/2 cups of flour
7 eggs
1 tsp of salt
1/2 cup of sugar
2 tbsp of fresh yeast
1 cup of butter
1/2 cup of almond flour
1 cup of chocolate chips
3 3/4 cups of milk chocolate, melted
---
Tools
Rolling pin
Springform pan
Freezer bag
Plastic bottle
Crown
---
Step 1/4
Crack 6 eggs into a well in the middle of 4 cups flour, add salt, 1/4 cup of sugar, and fresh yeast, mix and knead until you obtain a smooth dough. Add 2/3 cup of butter, knead again, and cool in the fridge for 3 hours. Remove the dough from the fridge, deflate it, and cut in half. Cut off 1/3 of one of the halves. Take the remaining 2 thirds of the one half and roll it out into a disk with the rolling pin and place it in the springform pan.
Step 2/4
Roll out the other half of the dough and fold in the chocolate chips. Roll the dough into a log and cut it into 10 pieces. Place a dry bean in one of the pieces, roll them all into balls and place them in a circle in the springform pan against the edge.
Step 3/4
Mix the remaining butter and sugar, then add the almond powder, the remaining egg, and the remaining flour and chill for 30 minutes. Remove from the refrigerator, place in the freezer bag, cut one of the bottom corners of the bag to make a piping bag, and pour into the centre of the pan. Roll out the last part of the dough into a ball and place it in the center. Let rise for 30 minutes, brush with egg yolk and bake for 25 minutes at 350 °F.
Step 4/4
Cut off the top and bottom of the bottle leaving the center cylinder. Place the crown on the cylinder. Demold the cake and place the cylinder in the center around the ball. Pour the melted milk chocolate into the cylinder. When ready to serve, remove the cylinder and enjoy!