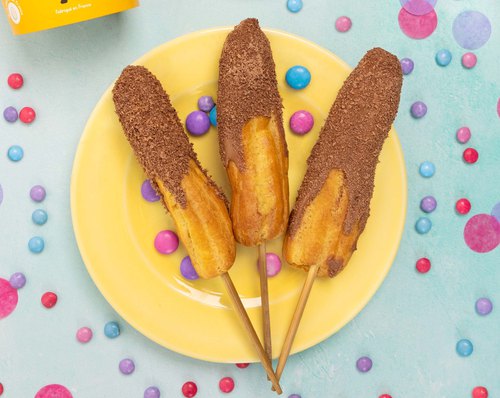 Pastry Popsicles
Pastry Popsicles! A pastry classic gets a cool makeover- to go! 🥐🍦🍡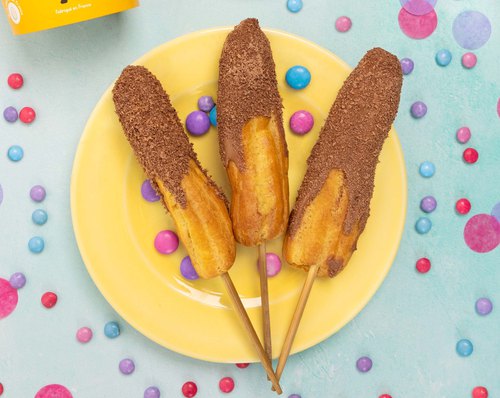 ---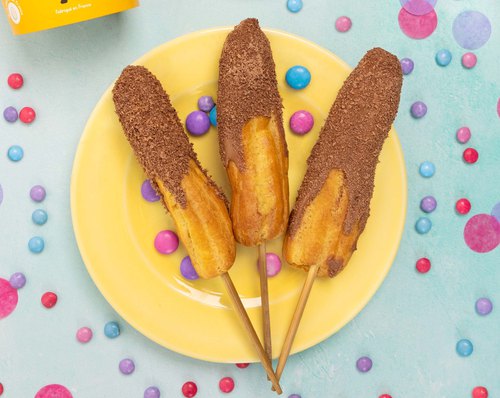 ---
Total time: 1 hour 5 minutes
Prep time: 45 minutes, Cook time: 20 minutes
Ingredients for 6 people
1/2 cup of milk
1/2 cup of butter
4 egg
1.1 cups of flour
7 oz of milk chocolate
1 pint of vanilla ice cream
Chocolate shavings
Salt
---
Tools
Plastic bottle
Skewers
parchment paper
---
Step 1/5
Mix the milk, ½ cup of water, the butter and a pinch of salt. Boil the preparation, add the flour and mix over the fire. Add the eggs one by one off the heat, mixing well.
Step 2/5
Cut a star in the cap of an empty plastic bottle and fill with choux pastry.
Step 3/5
Insert 9 skewers half way into the bottle (one by one) and gently remove it by pressing on the bottle to make a churros shape. Place them on a baking tray lined with parchment paper and bake for 20 minutes at 350°F.
Step 4/5
Stick the remaining 9 skewers in the ice cream pint, cut strips of ice cream and reserve in the freezer. Insert these strips of ice cream into the pastries taken out of the oven then place in the freezer.
Step 5/5
Melt the milk chocolate, dip the end of the pastries in it then in the chocolate shavings. Serve and enjoy!