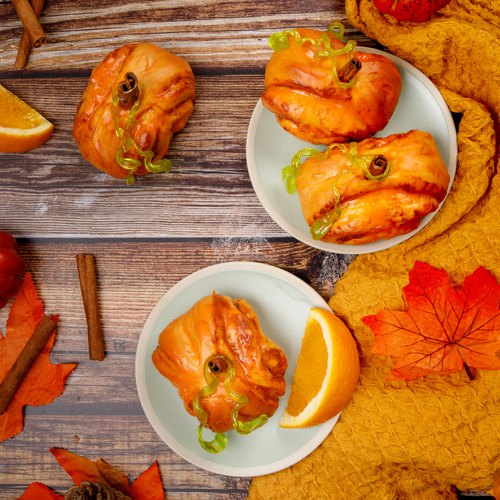 Gourdgeous Cinnamon Rolls
Gourdgeous Cinnamon Rolls! Life is gourd with these pumpkin treats 😁😎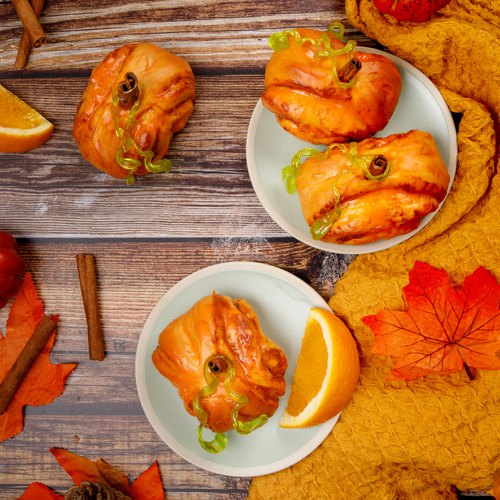 ---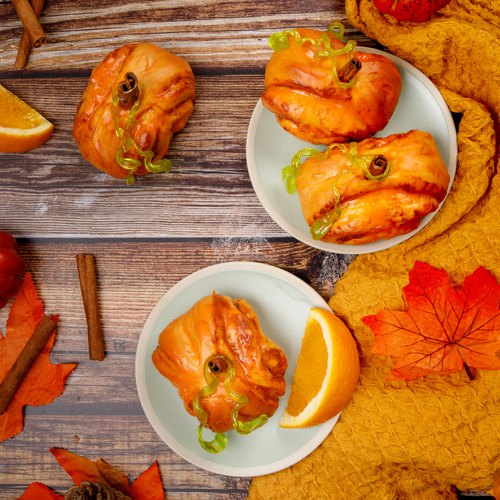 ---
Total time: 2 hours
Prep time: 1 hour , Cook time: 20 minutes, Rest time: 40 minutes
Ingredients for 8 people
1 cup of milk
1 pincée of cinnamon
4 tbsp of butter
3 cups of flour
cup 1/4 sugar
1 pincée of salt
1 tbsp of yeast
1 egg
1 can of pumpkin puree
cup 1/4 orange juice
2 tsp of vanilla
2 tsp of pumpkin pie spice
cup 1/2 brown sugar
cup 1/2 cream cheese
cup 1/4 maple syrup
cup 2/3 powdered sugar
1 orange food coloring
8 cinnamon sticks
6 jolly ranchers green apple
---
Tools
Baking sheet
Chopstick
---
Step 1/4
Prepare the pumpkin butter by adding the pumpkin puree, brown sugar, orange juice, salt and pumpkin spice to a small pot and heat on medium heat. Strir occasionally until mixture has thickened. Allow to cool completely.
Step 2/4
Prepare the cinnamon roll dough by adding milk, butter, flour, sugar, salt, yeast and egg to large mixing bowl. When everything is well blended, allow to rest 15 minutes. Roll out the dough into large rectangle. Spread with 1/2 cup pumpkin butter. Starting at the top of the rectangle fold the dough over in thirds (instead of rolling like you would with regular cinnamon rolls). Cut the dough into 10 pieces. Flip the piece of dough over, pressing down on the seam with the chopstick bring the sides together and press to seal. Turn the dough back over and press the chopstick down the center while bringing the sides up together. Pinch to seal. Press a cinnamon stick into the center of each roll. This should ressemble a small pumpkin. Allow the dough to rise for an additional 25 minutes. Bake at 350˚F for 20 minutes.
Step 3/4
While the cinnamon rolls are baking prepare the glaze. Mix the cream cheese, 1 tbsp of milk, maple syrup, powdered sugar and cinnamon together with some orange zest . Glaze doughnuts when fresh out of the oven.
Step 4/4
In a small heat-proof bowl, place the jolly ranchers candies still in their wrappers. Pour hot water over and allow to sit to soften the candies. Carefully remove the candies from their wrappers. Use a pen or other similar object to wrap the melted candy around it; forming a spiral. Continue this process until there are enough candy pumpkin vines for each pumpkin cinnamon roll. Place the decoration on top on each individual roll. Serve and enjoy!