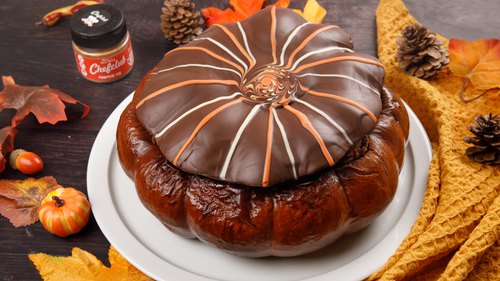 Bibbity Bobbity Pumpkin Cake
Can't cake your eyes of this recipe 😋🎂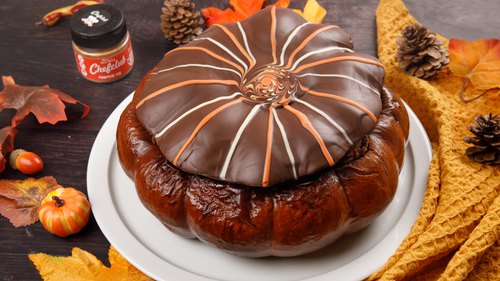 ---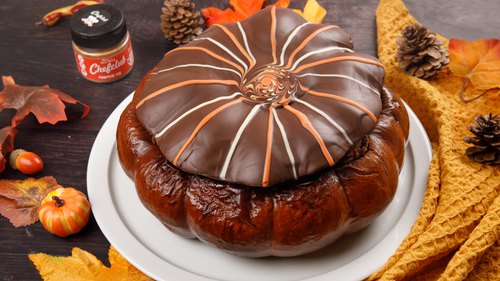 ---
Total time: 4 hours
Prep time: 2 hours 30 minutes, Cook time: 1 hour 20 minutes, Rest time: 10 minutes
Ingredients for 8 people
1 pumpkin
3 cups of flour
2 tsp of baking soda
2 tsp of pumpkin spice
1 tsp of salt
3 eggs
1 1/2 cups of 1+1/2 sugar
1 cup of brown sugar
1/2 cup of chocolate chips
1 cup of vegetable oil
0.3 cup of 1/3 dark chocolate
0.3 cup of 1/3 white chocolate
0.3 cup of 1/3 orange colored chocolate
1/2 cup of caramelized pecans
2 boules of caramel
1 melon baller
1 pie weights
1 aluminum foil
---
Step 1/4
Wash and dry pumpkin. Cut off the top of pumpkin and reserve. Take out the pumpkin seeds. Using the melon baller, carefully scrape out the pumpkin flesh from inside the pumpkin. Cover the exterior of the hollowed out pumpkin with aluminum foil and set aside on a sheet pan. Place the pumpkin flesh in a roasting dish. Add pumkin flesh to roasting pan and cover with aluminum foil. Bake for 20 minutes at 400°F. After baking, drain off excess liquid and purée the cooked pumpkin. You will need 2 cups of pumpkin purée.
Step 2/4
Proceed to the pumpkin bread recipe. In a bowl add the flour, baking soda, salt and pumpkin spice. Into the hollowed out pumpkin add the sugar, oil, eggs and pumpkin purée. Carefully stir the wet ingredients together, then mix in the dry ingredients little by little, finishing with the chocolate chips. Place a glass in the center of the pumpkin and press down. Fill glass with pie weights. Bake at 350°F for 1 hour then check the cake every 15 minutes until a tester comes out clean. If the top of the cake begins to brown too much then cover with aluminum foil.
Step 3/4
Prepare the top of the cake by placing the pumpkin top in the freezer for 10 minutes. Take the pumpkin top out of the freezer and cover with a thin layer of dark chocolate. Using a spoon drop overlapping spoonfuls of dark, white and orange chocolate on the pumpkin top. With a hair dryer on the cool function, blow the chocolate around to create a marbled effect. Chill until set.
Step 4/4
Once the cake has cooled, take the glass out of the middle. Fill the cake with 2 scoops of caramel ice cream. Add chopped caramelized pecans. Top with the marbled chocolate covering. Serve immediately. Enjoy!