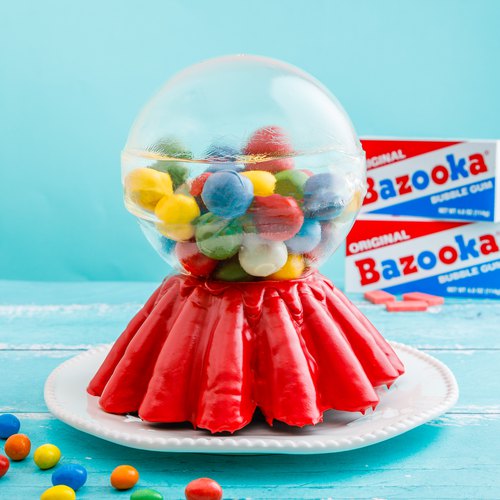 Gumball Machine Cake
Gumball Machine Cake! A yummy trip down memory lane 🤗🍬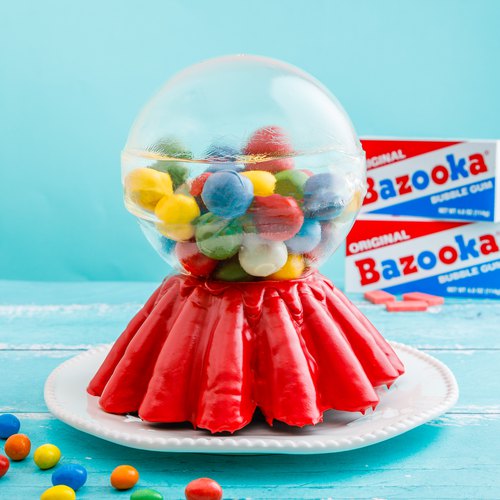 ---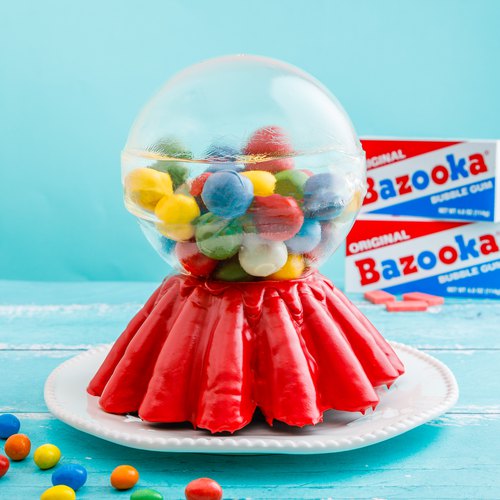 ---
Total time: 3 hours
Prep time: 1 hour , Cook time: 1 hour , Rest time: 1 hour
Ingredients for 8 people
3 cups of flour
3 1/2 cups of sugar
1 1/2 cups of cocoa powder
1 tbsp of baking soda
1 1/2 tsp of baking powder
1 1/2 tsp of salt
4 egg
1 1/2 cups of buttermilk
1 1/2 cups of coffee
1 tbsp of vanilla extract
2 tbsp of corn syrup
Water
16 oz of white chocolate
2 tbsp of frosting
Food coloring
1/2 cup of vegetable oil
Bubblegum
Candies
---
Tools
Empty water bottle
Cling wrap
Bowls
---
Step 1/4
In a large bowl, mix together the flour, 3 cups of sugar, cocoa powder, baking soda, baking powder, and salt. Make a well in the center of the dry ingredients. Pour in the eggs, buttermilk, coffee, vegetable oil and vanilla extract. Stir together until batter is smooth. Pour half of the batter into the fluted cake pan. Bake at 350°F for 30-40minutes. Continue with the rest of the cake batter. Once the cake has cooled, cut the end off of a water bottle and use the bottle as a cookie cutter, to cut out the center of the cake. Fill with bubblegum (ex. Bazooka) and peanut m&m's (or your favorite candies).
Step 2/4
Take the piece of the cake from the center and any leftover cake. Add 2 tablespoons of frosting for every cup of crumbled cake. Mix the cake and frosting together to create a dough-like consistency. Make little balls out of the dough. Place them in the refrigerator to chill. Melt the chocolate and divide it in half. Color half of the chocolate with the red coloring. Then divide the rest of the chocolate into 4 bowls and color them accordingly: yellow, blue, green, leaving one bowl white. Dip the cake balls into the white chocolate and colored chocolate. Place onto a parchment lined baking sheet. Place into the refrigerator. Place the cake on a cooling rack with a tray underneath. Pour the red chocolate over the cake, covering all the sides.
Step 3/4
Place all the ingredients into a small saucepan. Heat until 300°F, then remove from heat and wait for the bubbles to disappear. When all the bubbles have disappeared (sugar should be at around 240-245°F), pour a small amount onto a bowl covered tightly in 3 layers of cling wrap. Press down with a small springform cake ring with the bottom removed. The sugar should rise up forming a dome. Wait 5-10 minutes for the sugar to set. Remove from the cake ring then repeat to have a second dome.
Step 4/4
Place one dome like a bowl on top of the red chocolate covered cake. Inside begin stacking the cake balls to fill the dome. Carefully cover the cake balls with the second dome. It is best to add the sugar domes just before serving as the sugar dome will melt in the refrigerator. Enjoy!