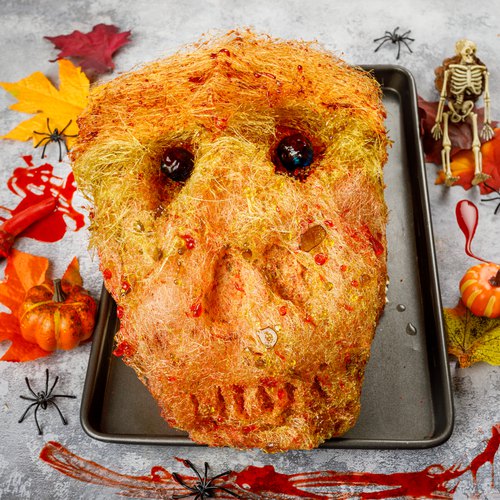 Sugar Monster Cake
The sweetest monster you've ever seen 👹🍰❤️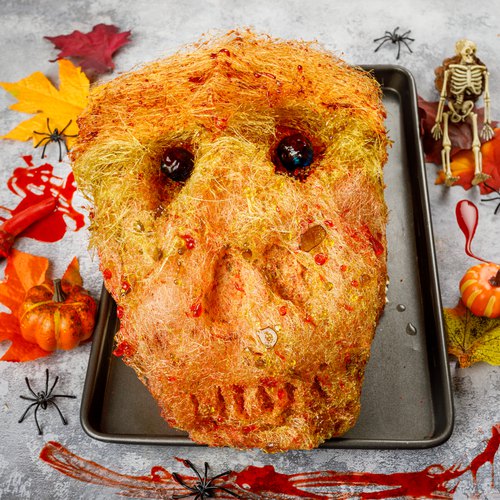 ---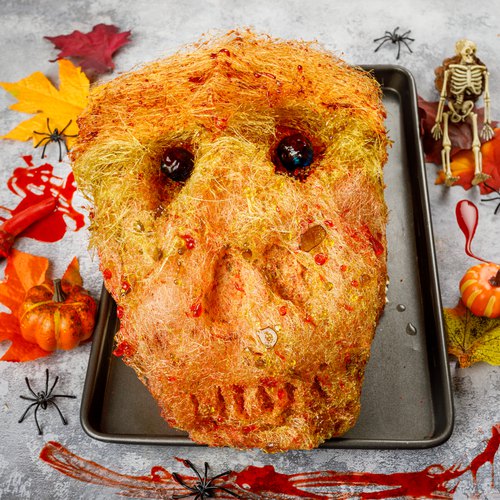 ---
Total time: 1 hour
Prep time: 1 hour
Ingredients for 6 people
1 box of red velvet cake mix
1/2 cup of powdered sugar
2 cups of cream cheese
2 cups of heavy whipping cream
2 tsp of vanilla extract
20 red hard candies
20 green hard candies
2 blue hard candies
---
Tools
Skewers
Ladles
Mask
---
Step 1/4
Prepare the red velvet cake batter according to box instructions, pour the batter into a parchment lined sheet tray, and bake according to box instructions. Let cool. Next prepare the frosting by mixing the powdered sugar, cream cheese, vanilla extract, and heavy cream with an electric mixer until whipped.
Step 2/4
Use a mask to cut out two layers of cake. Place the first layer of cake on a serving sheet, top with frosting, top with the second layer of cake, followed by more frosting and a final smaller piece of cake. Keep cool in fridge.
Step 3/4
Melt the red and green hard candies separately in non-stick sauce pots until melted. Place a piece of parchment paper on your work space with a glass filled with wooden skewers in the center. Spread the skewers out into a circle. Dip the outside of the ladles into the melted hard candies, turn upside down, and carefully drizzle over the wooden skewers. Repeat this process to obtain long strings of sugar candy around the skewers.
Step 4/4
After you've created a large bunch of candy, gather the sugar work together and form it into the shape of a skull. Poke two holes for eyes, one for the nose, and one for the mouth. Place the 2 blue hard candies in the eyes, add the mask to the top of the cake, and enjoy!