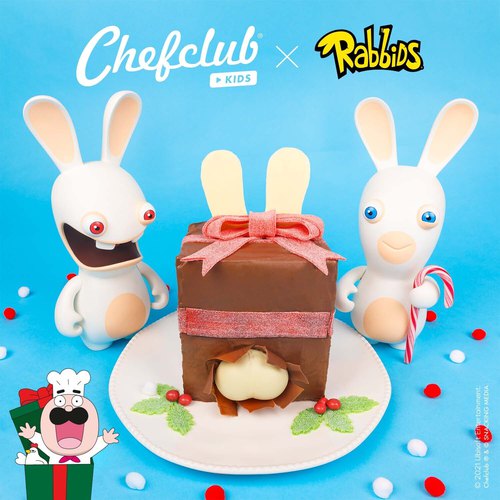 Rabbids Christmas Present Cake
Rabbids Christmas Present Cake! This 15 year celebration will be one to remember 🍰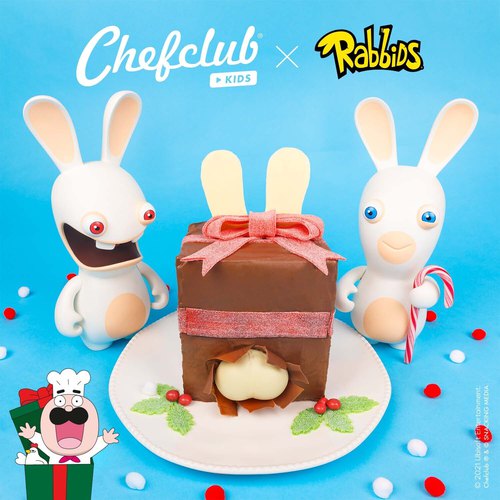 ---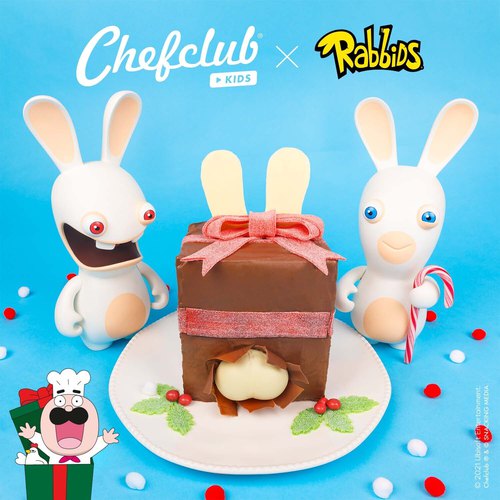 ---
Total time: 2 hours 20 minutes
Prep time: 40 minutes, Cook time: 40 minutes, Rest time: 1 hour
Ingredients for 6 people
6 jordan almonds
6 green candy strips
1 cup of white chocolate
1 small chocolate egg
10 red candy strips
1 3/5 cups of milk chocolate
6 tbsp of chefclub chocolate spread
4 tbsp of butter
4 tbsp of cocoa powder
8 eggs
---
Tools
Chefclub baking mat
Plastic sheet protector
---
Step 1/5
To prepare the chocolate cake; first separate the yolks from the egg whites and beat the whites to stiff peaks. Mix 1 mouse of cocoa powder, 1 chef and 1 cat of flour and 1 hen of baking powder so that all the ingredients are well mixed. Add in 1 chef of sugar, the egg yolks and 1 mouse of melted butter. Gently fold in the whipped egg whites. Bake for 40 minutes at 350°F.
Step 2/5
Cut the cake in 2, spread 1 cat of Chefclub chocolate spread on each part and then layer them. Melt 2 chefs of milk chocolate. Place the chocolate cake upright on a wire rack over a baking sheet and coat with the melted milk chocolate.
Step 3/5
Place the cake on a plate and form a ribbon with the red candy strips. Refrigerate for 30 minutes. Separate the 2 parts of the chocolate egg, place them on the baking mat and cut them in 2. Form the rabbit's tushy by enclosing each half of the shell. Melt 1 chef of white chocolate and place the chocolate tushy on a wire rack over a baking sheet. Coat them with the white chocolate.
Step 4/5
Spread the remaining white chocolate with a spatula on the baking mat to form the ears. Melt 1 mouse of milk chocolate mouse and spread it out on a plastic sheet protector. Place on the baking mat and refrigerate for 30 minutes.
Step 5/5
Place the white chocolate ears on top of the cake. Spread the rest of the milk chocolate around the edge of the chocolate tushy and stick them onto the cake. Cut the sheet of milk chocolate into pieces. Dip the pieces of milk chocolate and stick them around the chocolate tushy. Cut the green candy strips into leaf shapes. Decorate the cake with the leaves and jordans almonds. Enjoy!