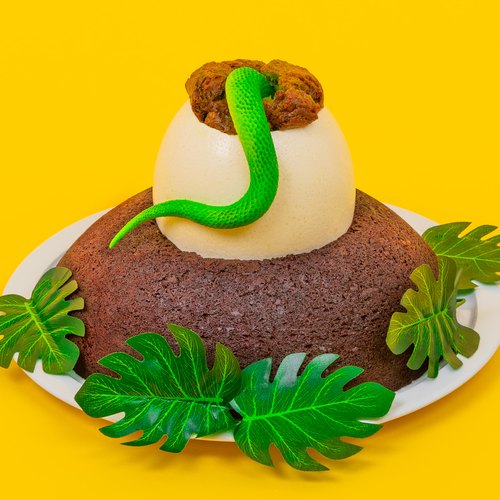 T-Rex Afternoon Snack
T-Rex Afternoon Snack! A dino-mite cake recipe 🦖🥚🎂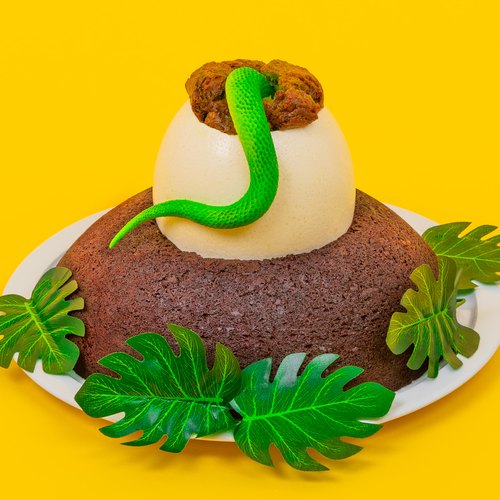 ---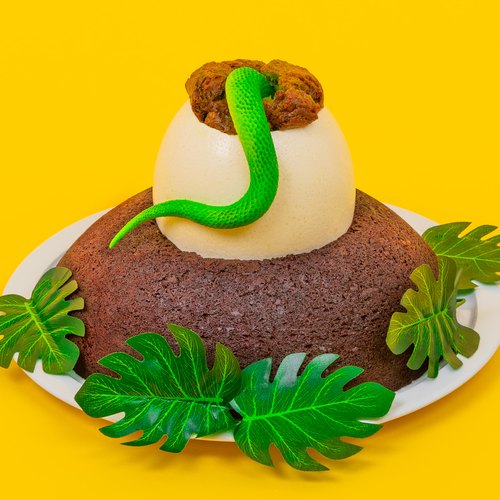 ---
Total time: 8 hours 35 minutes
Prep time: 10 minutes, Cook time: 25 minutes, Rest time: 8 hours
Ingredients for 10 people
1 bottle of orange juice
1 botte of lemonade
1 bottle of grenadine syrup
1 ostrich egg
5 cups of flour
3 1/2 cups of sugar
2 tbsp of baking powder
2 pinches of salt
3 cups of milk
3/4 cup of vegetable oil
2 tbsp of vanilla extract
4 cups of white vinegar
1 1/2 cups of cocoa powder
1/2 cup of butter
Green food coloring
Cooking spray
---
Tools
Balloons
Dinosaur toys
Straw
---
Step 1/4
Clean the dinosaur toys. Open up and stretch the balloon to fit the dinosaur toy. Fill with water to your desired egg shape. Tie the balloon, and place in a bowl. Repeat the process with the remaining toys. Set them in the freezer overnight. Remove from the freezer and unmold the ice cubes. Pour orange juice, lemonade and grenadine syrup in a large punch bowl. Place the dinosauce ice cubes inside.
Step 2/4
Have an adult carefully open the top of the ostrich egg. Pour the egg into a large bowl. Separate the yolk from the egg white. Mix the egg yolk with 3 cups of flour, 1½ cups of sugar, 1 tbsp of baking powder, 1 pinch of salt, 2 cups of milk, ¾ cup of oil and vanilla extract. Separate into two bowls. In one bowl add green food coloring and mix until the color is smooth. Pour into two small pitchers. Wash the egg with vinegar and spray the inside of the egg with non-stick spray. Use foil to create a circle and place it in the bottom of an oven safe bowl. Place the egg in the center. Alternate the batters to create a marble effect inside of the egg.
Step 3/4
Beat the egg white with 2 cups of sugar until fluffy. Sift in the flour, cocoa powder, baking powder and salt. Fold in the milk and melted butter until smooth. Pour into a bundt pan. Bake with the egg at 350°F for 20-25 minutes.
Step 4/4
Once cake is cooled, add a toy dinosaur coming out of the egg. Place the egg in the center of chocolate bundt cake nest, then on a plate. Use fake straw to create a nest to decorate the plate. Serve and enjoy!