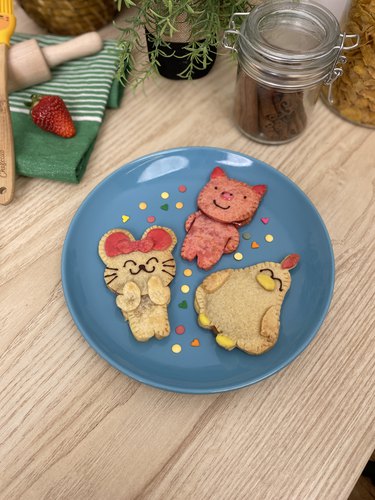 Chefclub Friends Pop Tarts
Chefclub Friends Pop Tarts! The perfect breakfast treat for the little ones 😍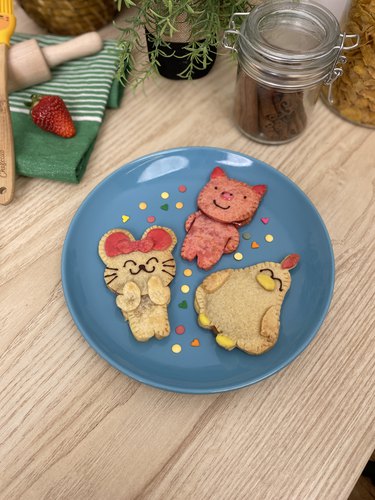 ---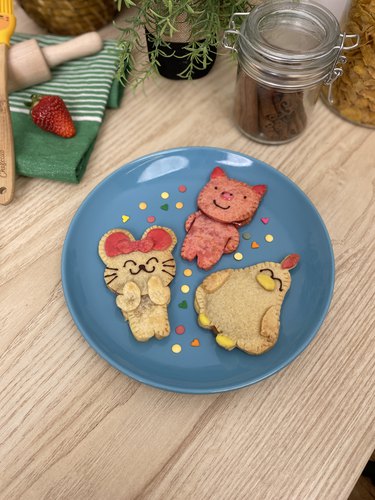 ---
Total time: 2 hours 35 minutes
Prep time: 5 minutes, Cook time: 30 minutes, Rest time: 2 hours
Ingredients for 3 people
1 3/5 cups of flour
1 cup of butter
1 cup of sugar
1 tsp of salt
2 egg yolks
3 tbsp of milk
1 cup of strawberries
0.3 cup of powdered sugar
---
Step 1/4
In a bowl add the flour, salt; 0.6 cup of sugar and the butter cut into small cubes. Knead the butter into the flour; then add the egg yolk and milk; knead and divide into 3. Create a large ball, a medium and a small. Color the medium pink and the small red. Refrigerate for 1 hour.
Step 2/4
Put the strawberries and the remaining sugar in a saucepan; add lemon juice and boil; then lower the heat and simmer for 1 hour. Refrigerate.
Step 3/4
Cut the dough to create a pig, a hen and a mouse molds (2 of each). Place in the freezer. Place the strawberry jam between the 2 layers; reserve in the freezer before baking. Bake 30 minutes at 300°F.
Step 4/4
Combine the milk and powdered sugar; add yellow and pink food coloring; color the dough for the hen's feet, the ears of the pig and the ears of the cat. Serve and enjoy!