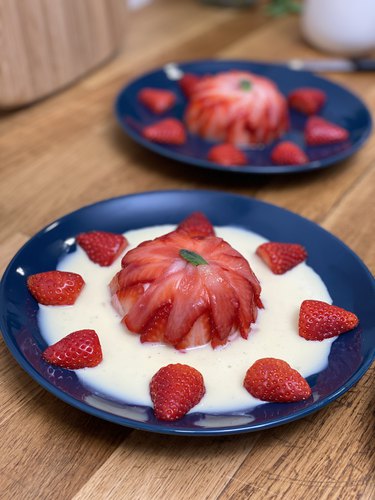 Strawberry Island
Strawberry Island! In a sea of custard😋🍓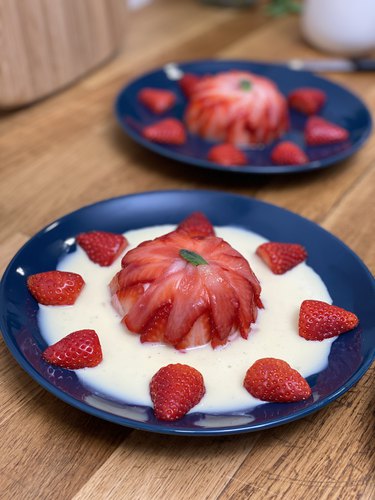 ---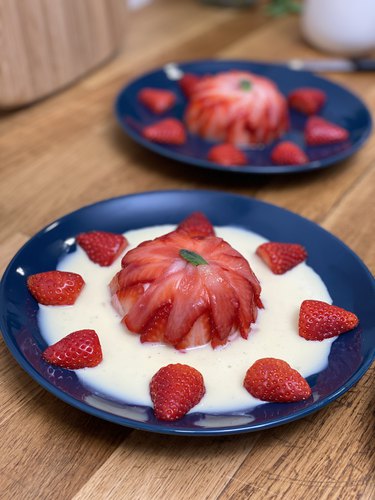 ---
Total time: 55 minutes
Prep time: 25 minutes, Cook time: 30 minutes
Ingredients for 3 people
2 boxes of strawberries
3/5 cup of powdered sugar
2 1/2 tbsp of sugar
3 egg
1 4/5 l of milk
1 oz of heavy cream
1 vanilla bean
Mint
---
Tools
Cling wrap
Wine glasses
---
Step 1/5
Cut 4 strawberries into strips and set aside. Cut the top of the remaining strawberries diagonally into strips to make 3 flower petals. Place them in a sheet of cling wrap and place them in the bowls to shape the strawberries. Place in the freezer.
Step 2/5
Put the rest of the strawberries in the pan and add 1.5 tbsp of sugar. Cook for 25 minutes to make a jam. Put the jam in the egg holder and place freezer. Remove half of the balls from the egg holders and place them on a hot plate, in order to stick them together and make 3 balls. Put them back in the egg holder and freeze once more.
Step 3/5
In a mixer, beat the egg whites with the powdered sugar and place 2 tablespoons of the egg whites in the wine glasses. Place the balls in the glasses and cover with another spoonful of egg white. Microwave the glasses for 30 seconds, covering them with a plate. Place the floating islands on plates and refrigerate.
Step 4/5
Pour the milk, cream and the scraped vanilla bean into the pan and bring to a boil. Put the egg yolks in a bowl and mix the rest of the sugar, then mix it with the vanilla cream and put everything in the pan. Stir until thickened, let cool, cover with cling wrap and refrigerate.
Step 5/5
Decorate the floating islands by placing the strawberry slices around and cover the dome with the bowl-shaped flowers. Decorate with strawberries and add the vanilla cream. Decorate with a mint leaf, serve and enjoy!