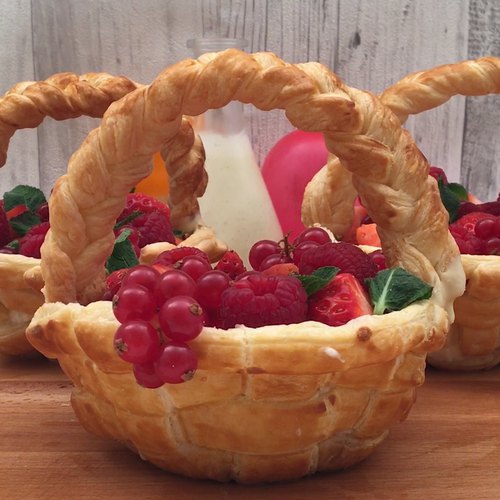 Tiramisu Baskets
Picnic ready! ✨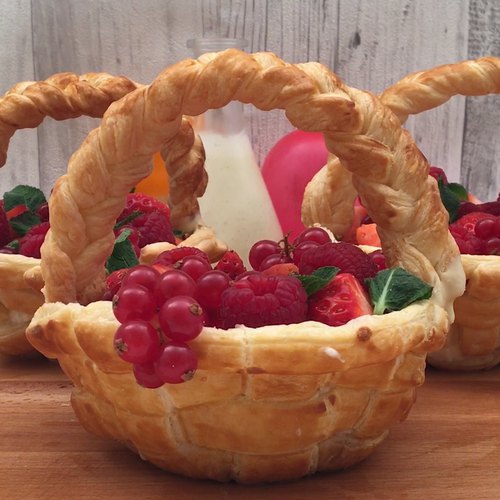 ---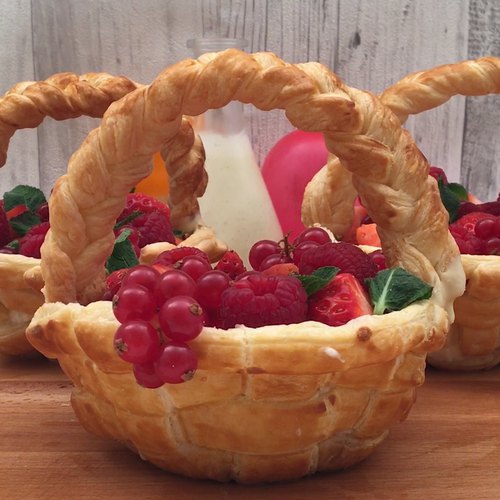 ---
Ingredients for 3 people
2 rectangular puff pastrys
2 egg yolks
1 1/4 cups of heavy cream
5 tbsp of powdered sugar
1/2 vanilla bean
3 ladyfinger cookies
2/3 cup of coffee
10 strawberries
10 raspberries
3 sprigs of gooseberries
mint
white chocolate
3 bowls
aluminum foil
1 electric hand mixer
1 baking tray
parchment paper
---
Step 1/4
Cut 1 of the puff pastries in half lengthwise and slice into 1/2 inch wide strips.
Step 2/4
Cover the bowls with aluminum foil and flip them over. Lay 4 strips of dough on each bowl in a star shape. Lift up 1 half of the 8 strips that fall down the sides, then place a new slice horizontally around the bowls, over the non-raised slices. Lay down the lifted strips and then lift the other half strips. Repeat with a new slice placed horizontally on the bowls and repeat the operation until the bowls are covered with braided dough like a basket.
Step 3/4
Cut the second puff pastry into 9 thin strips lengthwise and make 3 dough braids. Place the bowls and the braids, bent into semicircles, on the baking sheet lined with parchment paper. Brush with egg yolk and bake at 375 °F for 15 minutes.
Step 4/4
Whip the cream, icing sugar, and seeds scraped from the vanilla bean. Demold the baskets, turn them over and spread half of the whipped cream in them. Place 2 half-ladyfingers soaked in coffee on top and cover with the remaining whipped cream. Arrange the berries and mint leaves on top and attach the braids with melted white chocolate to make handles for the baskets. Enjoy by dipping the fruit in the cream.