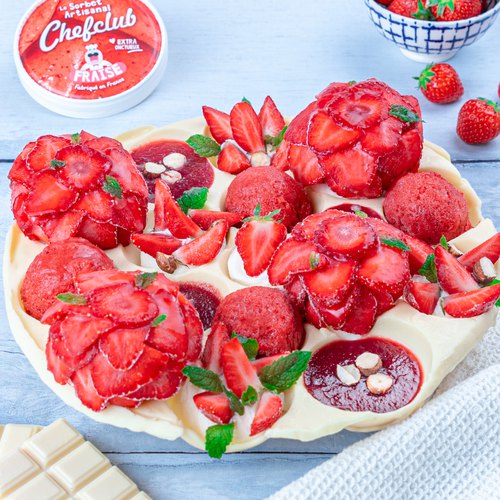 Tirami-Bubble Strawberries
Tirami-Bubble Strawberries! A delightfully refreshing dessert 😁🍓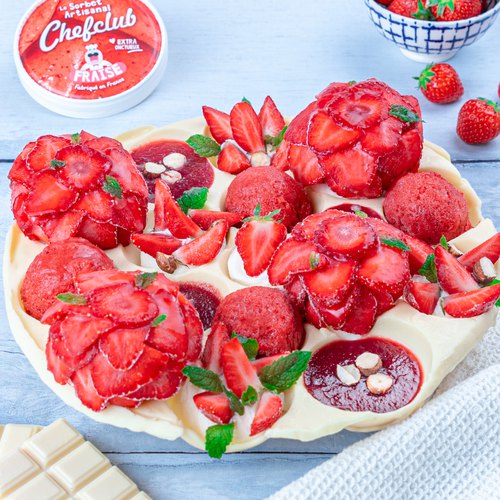 ---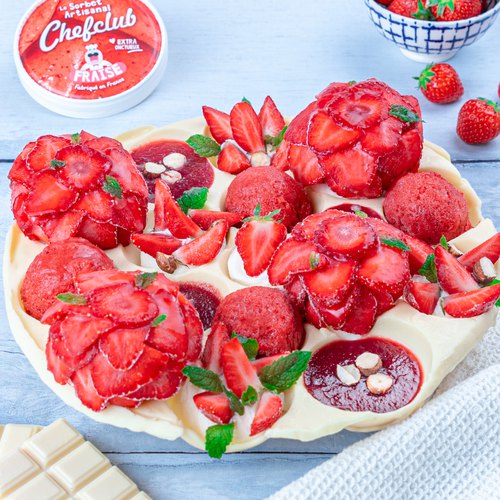 ---
Total time: 1 hour 20 minutes
Prep time: 20 minutes, Rest time: 1 hour
Ingredients for 6 people
9 oz of dark chocolate
2 containers of strawberries
1 1/4 cups of heavy cream
10 1/2 oz of mascarpone
2 tbsp of sugar
Chefclub strawberry sorbet
Mint
---
Tools
Cling wrap
Balloons
Piping bag
Electric hand mixer
---
Step 1/4
Fill the balloons with water, close them and place them in a round dish halfway filled with water. Place in the freezer for 1 hour.
Step 2/4
Melt the white chocolate, pour it over the balloons and allow to harden before placing the white chocolate decorations on a plate. Wash and cut the strawberries, cook a third of the strawberries in a saucepan and blend them to obtain a strawberry coulis. Allow the coulis to cool and pour it into three of the hollows of the white chocolate shell.
Step 3/4
Whisk the heavy cream, mascarpone and sugar into whipped cream. Put it in a piping bag, cut the end and pipe the whipped cream into 3 hollows of the white chocolate shell and add a few cut strawberries. Take 3 scoops of Chefclub strawberry sorbet and place them in 4 other hollows of the chocolate shell. Form chocolate shavings with the remaining hardened white chocolate and place them on the scoops of ice cream.
Step 4/4
Cut the remaining strawberries into slices. Make three spirals of strawberries on three separate squares of cling wrap. Pipe the whipped cream on each spiral of strawberries, add the ladyfingers (cut in three), some strawberry coulis before covering everything with whipped cream. Close the cling wrap around everything. Unmold the frozen strawberry balls, add a few mint leaves on top and place them on the white chocolate shell. Serve and enjoy!